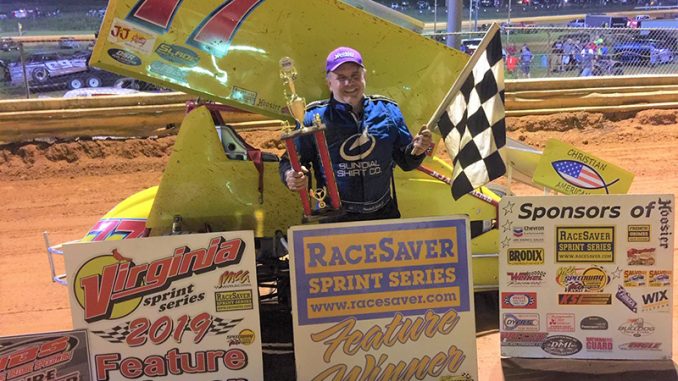 By Jim Haines 
SHENANDOAH, Va. (July 18) – On the hot, humid, summer day, the real heat was on the track as Mike Leraas won his first Virginia Sprint Series race of the season by a few feet.
Saturday's feature-only pavement show for IMCA RaceSaver Sprint Cars at Shenandoah Speed­way had Chris Ware and Leraas pace the field to green with Leraas out first and Jerald Harris on his bumper. Bill Rice raced with Ware to get third as the front two were already hard at it for the top spot lap.
Rice got by Ware as Billy Hubbard was all over Rice for third. Lap after lap, Harris got in the turns bet­ter but Leraas was better on the exit and they were never more than a few feet apart.
Hubbard got by Rice for third with a few laps to go. Harris edged closer as the white flag waved and set up a dash for the finish.
With the checkered flag in the air, Harris moved high to the outside and put on a run that fell a couple feet short as Leraas got to the line first.
This Friday night, July 24 is the final Fast Friday Race of the year at Dixieland Speedway in Eliza­beth City, N.C.