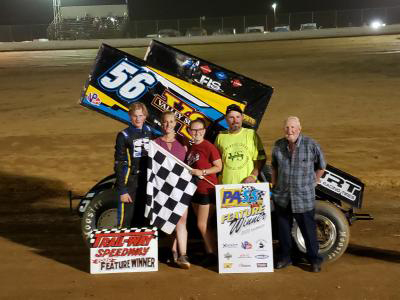 By Frank Buhrman & Stephanie Dodson 
HANOVER, Pa. (July 17) – Jake Frye might wish the Pennsylvania Sprint Series ran at Trail-Way Speedway more often. A year ago to the weekend, the Lewisberry racer, still one of PASS' young­est, equaled his best career finish – second place – when the IMCA RaceSaver Sprint Car series stopped at the Hanover oval.
Friday night, he topped that.
Frye scored win number one in the 25-lap feature, in his 42nd career PASS start.
He'd taken the top spot when early race-leader Larry McVay and third-place Johnny Scarborough were penalized for clipping the restart cone following a lap eight caution, putting Frye in the lead over Doug Dodson.
That's how they stayed, as Frye handled lapped traffic with ease, while Dodson blew a brake line on lap 13, handicapping his effort. He was still able to hang on for his third straight runner-up fin­ish.
Scarborough came home in third, with front-row starters Jaremi Hanson and McVay taking fourth and fifth.
Feature results – 1. Jake Frye; 2. Doug Dodson; 3. Johnny Scarborough; 4. Jaremi Hanson; 5. Larry McVay; 6. Billy Ney; 7. Garrett Bard; 8. Kristina Pratt; 9. Eric Mathiot; 10. Mike Melair; 11. Dave Wickham; 12. Kruz Kepner; 13. Landon Price; 14. John Walp.