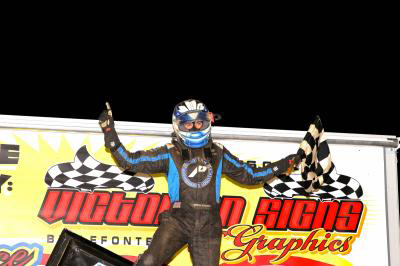 By Frank Buhrman
PORT ROYAL, Pa. (June 20) – 'Nitro' Nick Sweigart made up for a couple of early season disappointments with a dominating wire-to-wire win in the 20-lap Pennsylvania Sprint Series feature Saturday at Port Royal Speedway.
Sweigart took advantage of his pole start and put his IMCA RaceSaver Sprint Car in victory lane for the first time in the late-starting 2020 season.
The win was hardly a gimme, though. Last week's Port Royal winner Garrett Bard, started 10th, got all the way to fourth on the opening lap, then took the runner-up spot on lap 11 and began to pressure Sweigart in lapped traffic during the caution-free race.
Sweigart responded, though, and was 1.5 seconds ahead at the checkered flag. Bard's finish gave him two wins and two seconds in five PASS starts, plus a Laurel Highlands Sprint Series victory.
Dave Grube matched Bard's charge, advancing from 11th starting spot to finish third, ahead of Larry McVay and Derek Hauck. The Penns Valley Meat Market Hard Charger Award went to sixth-finishing Doug Dodson, who came all the way from 18th.
Sweigart had looked headed for victory in the season opener at Selinsgrove before engine troubles spoiled that outing, and an early race accident sidelined him last week at Port Royal. A third place at Selinsgrove in between was the year's highlight before Saturday.
Feature results – 1. Nick Sweigart; 2. Garrett Bard; 3. Dave Grube; 4. Larry McVay; 5. Derek Hauck; 6. Doug Dodson; 7. Jake Frye; 8. Christian Rumsey; 9. Erin Statler; 10. Tom Carberry; 11. John Walp; 12. Jaremi Hanson; 13. Devin Adams; 14. Kassidy Kreitz; 15. Greg Dobrosky; 16. Jared Zionkowski; 17. Ken Duke Jr.; 18. Ron Aurand; 19. Johnny Scarborough; 20. Landon Price; 21. Cassandra Minium; 22. Dominic Melair; 23. Josh Roush; 24. Kruz Kepner; 25. Nathan Gramley; 26. Peter Dance.