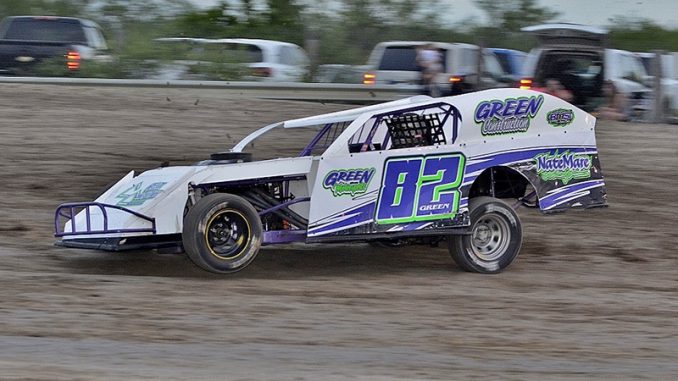 By J.M. Hallas 
PLEASANTON, Texas (June 20) – After setup changes galore from the heat to the feature, Rick Green Parked his IMCA Modified in victory lane Saturday night at I-37 Speedway.
Green powered around the outside off turn two to get out front early on, trailed by Ryan Doyon, Logan Dinsmore, Chris Carroll and Donald Banker.
Past track champion Greg Dinsmore got to fifth before a caution. On the restart Carroll began pressuring Logan Dinsmore for third.
Green got away following the next restart while Logan Dinsmore was looking for a way past Doyon for second. A quick yellow on lap 12 set up a single file restart to the finish.
As Green and Doyon cleared the way, Logan Dinsmore and Carroll began a five-lap, wheel-to-wheel, battle for third. Carroll, using the bottom, was finally able to get the spot. Up front, Green was holding a good margin on Doyon going on to take the checkers.
"We threw everything at it from the heat to the feature," said Green. "I worked on it the whole time with Chris (Carroll) helping me. Shocks, springs, you name it. We did about everything to this car."