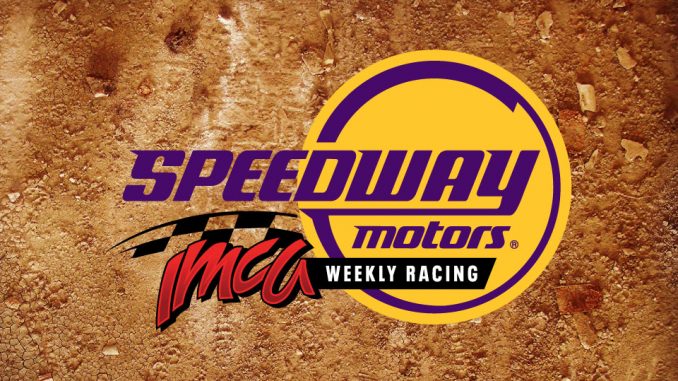 By Edward Anschutz
SEYMOUR, Wis. (Aug. 23) – Benji LaCrosse only led one lap of the IMCA Modified feature but it was the one that paid as he snatched the victory from Andy Kleczka Friday at Outagamie Speed­way powered by EWSC.
Kleczka used his front row starting spot to build a huge lead early. That was erased when the cau­tion flew just past midway.
The first to challenge for the top spot was last week's winner Wyatt Block Jr. as he worked down low and Kleczka ran the cushion. Once again Kleczka built a gap as LaCrosse took the runner-up posi­tion with three laps remaining. LaCrosse closed in but remained two car lengths behind.
On the final corners, LaCrosse came in high and dove down the track to the inside of the leader as they came to the checkers. When the dust settled it was LaCrosse winning by the width of his bumper in a thriller. On the other side of the coin it was heartbreak city for Kleczka who had to settle for second. Block placed third while Jerry Wilinski and rookie Cody Apfelback completed the top five.
In IMCA Sunoco Stock Car action Travis Van Straten took the lead from Logan Leary on lap eight. With the field bunched for a lap 12 caution, Eric Arneson went to work on Van Straten as the race resumed.
Van Straten ran the top with Arneson down low. The duo raced door-to-door the remainder of the contest with Van Straten coming out on top. Arneson was a close second, point leader Jeremy Christians placed third, Chas Van Ooyen stayed in the title hunt with a fourth-place finish and Larry Karcz Jr. rounded out the top five.
Cory Kemkes took the lead on lap two of the Karl Kustoms Northern SportMod main and never looked back to score his second feature win of the season. Jordan Bartz took second, rookies Ryan Schmidt and Mathew Radtke placed third and fourth, respectively, and after coming through a last-chance race, Kevin Bethke was fifth.