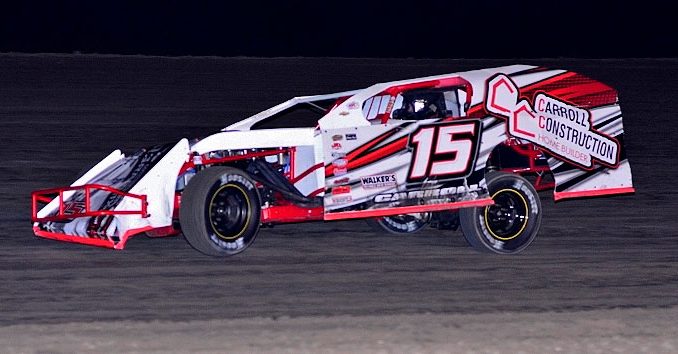 By J.M. Hallas
PLEASANTON, Texas (Aug. 24) – Chris Carroll looked like he was on his way to an easy victory in Saturday's IMCA Modified main event at I-37 Speedway, until a mid-race caution flew.
Carroll then had to fend off Dillon Tindall and a last lap challenge from former champion Greg Dinsmore to secure that win.
A spun car on lap 13 brought out the yellow that erased Carroll's lead. Greg Dinsmore and Dillon Tindall stayed wheel-to-wheel for second on the restart with Jason Borlace, Donald Banker and Anthony Gordon three-wide for fifth.
Banker took the spot and then passed Campbell for fourth.
Dinsmore finally shook off Tindall for second but remained a handful of car lengths back. With two to go, Dinsmore had cut the gap to three car lengths and as the white waved he drove hard into turn one, getting to Carroll's bumper.
Dinsmore gave it the old college try in turns three and four, getting the nose inside coming off turn four. The two made slight contact and it was Carroll leading the drag race to the line for the vic­tory.
"Any time you can beat Greg here, you count that as a big win," said Carroll. "I'm worn out. I don't think I could have done five more laps."