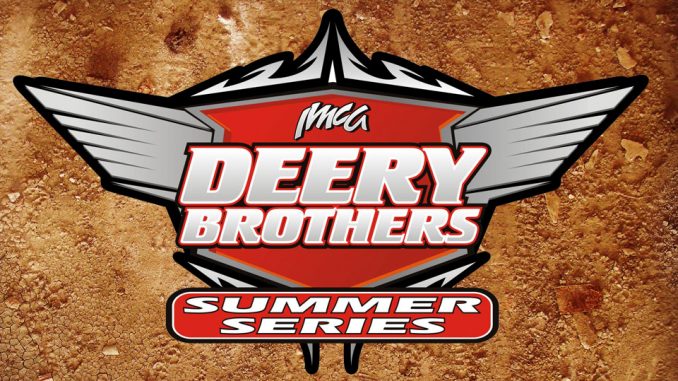 WEST LIBERTY, Iowa – The points race going into the night is every bit as close as the racing will be when the Deery Brothers Summer Series travels to West Liberty Raceway this weekend.
The Saturday, Aug. 24 IMCA Late Model tour feature pays $2,000 to win and a minimum of $300 to start.
Consistent Andy Eckrich has four top-five finishes through the first seven events of the season and brings the series point lead to town. Joel Callahan and Matt Ryan have each won once and sit four and six points out of first, respectively.
Pit gates open at 4 p.m. and the grandstand opens at 5 p.m. Saturday. Hot laps are at 6:30 p.m. and racing starts at 7 p.m.
Spectator admission is $18 for adults, $15 for seniors and teens, and free for kids 12 and under when accompanying a paid adult. Pit passes are $30.
Justin Kay has owned West Liberty Raceway, winning eight of the 14 Deery events held there since 2013.
The Saturday show will be the 498th in series history. The tour headlines opening night of the IMCA Speedway Motors Super Nationals fueled by Casey's at Boone Speedway on Sept. 2 before wrapping up its 33rd season at 34 Raceway in West Burlington on Sept. 21 and at Davenport Speedway on Sept. 28.
Deery Brothers Summer Series top 20 point standings – 1. Andy Eckrich, Oxford, 318; 2. Joel Callahan, Dubuque, 314; 3. Matt Ryan, Davenport, 312; 4. Curt Martin, Independence, 289; 5. Jeremiah Hurst, Dubuque, 285; 6. Joe Zrostlik, Long Grove, and Darrel DeFrance, Marshalltown, both 273; 8. Andy Nezworski, Buffalo, 271; 9. Dalton Simonsen, Fairfax, 249; 10. Justin Kay, Wheatland, 217; 11. Gary Webb, Blue Grass, 200; 12. Brian Harris, Davenport, 196; 13. Jeff Aikey, Cedar Falls, 191; 14. John Emerson, Waterloo, 185; 15. Eric Pollard, Peosta, 163; 16. Chad Holladay, Muscatine, 160; 17. Tommy Elston, Keokuk, 154; 18. Tyler Bruening, Decorah, 139; 19. Todd Malmstrom, Hampton, Ill., 137; 20. Terry Neal, Ely, 117.