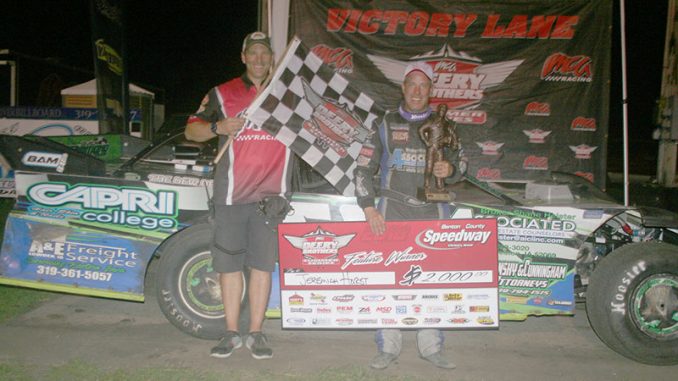 VINTON, Iowa (June 28) – It wasn't that long ago Jeremiah Hurst wasn't sure about his future in racing.
On Thursday, he was in victory lane telling all about his Deery Brothers Summer Series win at Benton County Speedway.
"This is awesome. It's my first win since my heart attack (last July). It seems like we have a lot of seconds," said Hurst, most recently runner-up in back-to-back IMCA Late Model tour events last month at Quad City Speedway and Boone Speedway. "It feels really good to be able to win to­night."
Boone had been the site of Hurst's last Deery win, during the 2002 IMCA Speedway Motors Su­per Nationals fueled by Casey's. His career first tour win had come the previous September at 34 Raceway.
"There was a time when I didn't know if I'd be racing," Hurst said. "This is my second year racing for Ken Roberts and it's the best thing that's ever happened for me."
Hurst took home $2,000 for the Benton County fair victory. The checkers came a full second and a lapped car ahead of Curt Martin while point leader Justin Kay was third.
John Emerson and Todd Cooney broke away from the pack at the start of the 50-lapper. The only cau­tions of the contest waved on the 13th and 16th circuits and the 11th starting Hurst worked his way to the lead by all of a bumper width when lap 23 was scored.
"I wasn't sure about the (track surface) before the feature," Hurst admitted. "It was good on the top and the middle, but it was way too good on the bottom to give that up."
Emerson fell off the pace after getting too high with 10 laps left; Martin took over second for good at that point, beating Kay across the stripe by half a second.
Tyler Bruening and Andy Eckrich completed the top five finishers.
Hard charger Cayden Carter started 22nd and finished seventh. Kay was the $250 Sunoco Race Fuels feature qualifier drawing winner.
The series had made just two previous visits to Benton County Speedway, in 1988 and 2005. The 33 cars entered Thursday night were the most through six tour events this season.
Damon Murty raced from 10th starting to win the IMCA Sunoco Stock Car feature and Tony Olson topped the caution-free Karl Chevrolet Northern SportMod main event.
Brett Vanous was the IMCA Hobby Stock winner.
Feature Results
Deery Brothers Summer Series – 1. Jeremiah Hurst, Dubuque; 2. Curt Martin, Independence; 3. Justin Kay, Wheat­land; 4. Tyler Bruening, Decorah; 5. Andy Eckrich, Oxford; 6. Charlie McKenna, Ames; 7. Cayden Carter, Oskaloosa; 8. Jeff Aikey, Cedar Falls; 9. Ryan Dolan, Lisbon; 10. John Emerson, Waterloo; 11. Jeff Tharp, Sherrill; 12. Todd Cooney, Pleasant Hill; 13. Denny Eckrich, Tiffin; 14. Darren Ackerman, Elk Run Heights; 15. Lyle Klein, Dubuque; 16. Joel Callahan, Dubuque; 17. Rob Moss, Iowa City; 18. Joe Zrostlik, Long Grove; 19. Darrel DeFrance, Marshalltown; 20. Tim Simpson, Iowa City; 21. Richie Gustin, Gilman; 22. Nick Marolf, Moscow; 23. Chad Coyne, Orion, Ill.; 24. Rob Toland, Colona, Ill.
Stock Cars – 1. Damon Murty; 2. John Oliver Jr.; 3. Norman Chesmore; 4. Scooter Dulin; 5. Jerry Schipper; 6. Dustin Vis; 7. Austin Evens; 8. Kevin Rose; 9. Ian Huff; 10. Shane Ebaugh.
Northern SportMods – 1. Tony Olson; 2. Joe Docekal; 3. Tyler Soppe; 4. Danny Dvorak; 5. Kyle Olson; 6. Austin Howes; 7. Brandon Tharp; 8. Ryan King; 9. Brady Hilmer; 10. Jamie Huff; 11. Brian Sondag; 12. Ben Chapman; 13. Duane Roth; 14. Kyle Bentley.
Hobby Stocks – 1. Brett Vanous; 2. Matt Brown; 3. Justin Wacha; 4. Scott Pippert; 5. Leah Wroten; 6. Jacob Floyd; 7. Jeremiah Andrews; 8. Amy Thomas; 9. Breydon Forbes; 10. Kyle Dulin; 11. Mike Kimm; 12. Nathan Ballard; 13. Justin Ginther; 14. Scott Siems; 15. Kenzie Ritter.