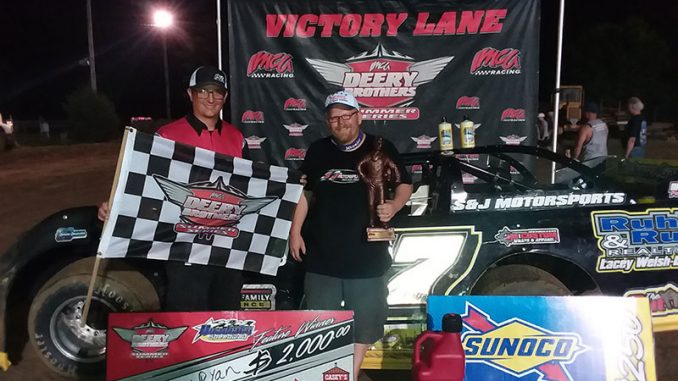 EAST MOLINE, Ill. (Aug. 11) – Matt Ryan didn't lead the most laps, just the most important ones.
Ryan passed Brandt Cole following a late restart and led the last two circuits in winning Sunday's Deery Brothers Summer Series main event at Quad City Speedway.
The $2,000 checkers were Ryan's IMCA Late Model tour career third, and first since August of 2016. Cole took runner-up honors in his first career series start while point leader Andy Eckrich was third.
Justin Kay, Brian Harris and Curt Martin also did stints at the front, with polesitter Kay holding off high side challenges from Tommy Elston and leading the first nine of 30 laps.
Elston was forced to retire following a multi-car tangle on lap eight and Harris shot to the front before Kay drove to the infield.
Harris was slowed by a flat tire and surrendered the lead to Martin on lap 20. Martin appeared to survive a rough restart on lap 21 but soon had a flat of his own, falling back as Cole, Eckrich and Ryan motored by.
Cole's turn in the lead lasted seven laps. Ryan found the higher side to his liking following that late restart and charged ahead. Rookie contender Lake Knutti and Joel Callahan were fourth and fifth, re­spectively.
Ryan, the fifth different winner in six Deery events so far this season, had started 12th. Eckrich came from 13th, Callahan from 16th.
Ryan's most recent series win had come at Dubuque Speedway. He was also the winner of the $250 Sunoco Race Fuels feature qualifier drawing at East Moline.
Next up on the tour schedule is the $2,000 to win Sunday, Aug. 18 event at Quincy Raceway. That race will be the 497th in Deery Series history.
Feature results – 1. Matt Ryan, Davenport, Iowa; 2. Brandt Cole, Rock Falls; 3. Andy Eckrich, Oxford, Iowa; 4. Lake Knutti, Lanark; 5. Joel Callahan, Dubuque, Iowa; 6. Dalton Simonsen, Fair­fax, Iowa; 7. Mike Guldenpfennig, Muscatine, Iowa; 8. Eric Sanders, Sherrard; 9. David Norton, Colona; 10. Curt Martin, Independence; 11. Joe Zrostlik, Long Grove, Iowa; 12. Jeremiah Hurst, Dubuque, Iowa; 13. Brian Harris, Davenport, Iowa; 14. Darrel DeFrance, Marshalltown, Iowa; 15. Tegan Evans, Clinton, Iowa; 16. Shaune Lewis, Kewanee; 17. Justin Kay, Wheatland, Iowa; 18. Chuck Hanna, Port Byron; 19. Terry Neal, Ely, Iowa; 20. Andy Nezworski, Buffalo, Iowa; 21. Tommy Elston, Keokuk, Iowa; 22. B.J. Jackson, Clinton, Iowa.