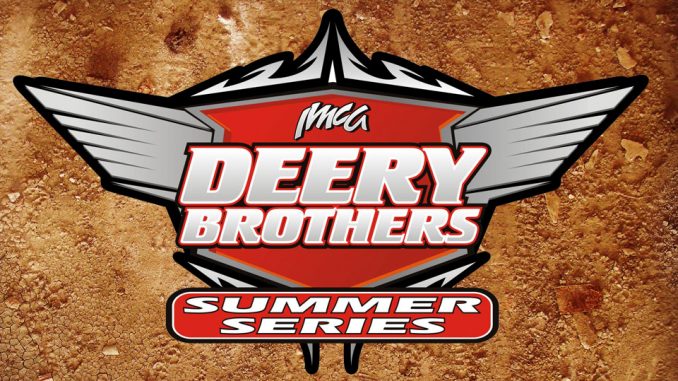 COLUMBUS JUNCTION, Iowa – The Deery Brothers Summer Series makes another much-anticipated return to CJ Speedway to headline the Wednesday, July 17 midweek special.
Touring IMCA Late Models will race for $2,000 to win and a minimum of $300 to start at Colum­bus Junction, where pit gates and the grandstand open at 4:30 p.m. Racing follows 7 p.m. hot laps.
Spectator admission is $15 for adults, $10 for seniors, $7 for students ages 11-17 and free for kids 10 and under. Pit passes are $30.
Chad Holladay of Muscatine was the winner last July, when the Deery Series made its first visit to Co­lumbus Junction since 1996. Three-time and defending series champion Justin Kay and Jere­miah Hurst of Dubuque, the defending IMCA Late Model national champion, are currently tied for the tour point lead.
The fourth event of the 2019 tour is the 494th in Deery Series history and will be broadcast by IMCA.TV. More information about the Columbus Junction show is available by calling 319 430-4737 and at the www.cjspeedway.com website.
Also on the card next Wednesday are IMCA Modifieds racing for $1,000 to win and a Fast Shafts All-Star Invitational ballot berth, and IMCA Sunoco Stock Cars and Karl Kustoms Northern SportMods, both for $600 to win.
IMCA Speedway Motors Weekly Racing National and E3 Spark Plugs State points will be awarded in all three divisions, plus Side Biter Chassis North Central Region points for the Modi­fieds and EQ Cylinder Heads Northern Region points for the Stock Cars.
Deery Brothers Summer Series top 20 point standings – 1. Justin Kay, Wheatland, and Jere­miah Hurst, Dubuque, both 138; 3. Joel Callahan, Dubuque, 136; 4. Matt Ryan, Davenport, 135; 5. Andy Eckrich, Oxford, 132; 6. Curt Martin, Independence, 125; 7. Chad Holladay, Muscatine, 117; 8. Darrel DeFrance, Marshalltown, 116; 9. Andy Nezworski, Buffalo, 111; 10. Todd Malm­strom, Hampton, Ill., 106; 11. Joe Zrostlik, Long Grove, 104; 12. Jeff Aikey, Cedar Falls, and Paul Nagle, Nevada, both 99; 14. Dalton Simonsen, Fairfax, 98; 15. Tyler Bruening, Decorah, 92; 16. John Emerson, Waterloo, 89; 17. Brian Harris, Davenport, 88; 18. Terry Neal, Ely, 85; 19. Eric Pollard, Peosta, and Gary Webb, Blue Grass, both 82.