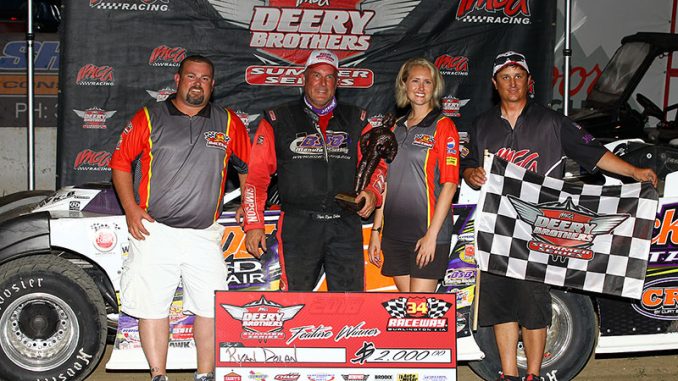 WEST BURLINGTON, Iowa (July 3) – It had been a few years since his last trip to West Burling­ton, so Ryan Dolan relied on Mapquest to get to town.
Once he got to 34 Raceway and got some early evening brake issues figured out, he didn't need any help getting around the track.
Dolan led all 50 laps of the Tuesday night Deery Brothers Summer Series main event at 34. The feature ran green to checkered and Dolan pocketed $2,000 for his career third IMCA Late Model tour win.
"It was a classic and a sweet victory for the Rick Dralle team," Dolan said following the tour's 50th visit to the West Burlington oval. "It was an exciting track to race on – it just suits my driving style. I ran the middle to the top, kept my momentum up and tried to stay out of trouble because there was quite a bit of lapped traffic."
Dolan started outside Darrel DeFrance on the front row. DeFrance led the field into the first turn but Dolan was the story from that point.
Tyler Bruening began catching up with Dolan in lapped traffic. Dolan was slowed by two lapped cars in the final laps, but denied an inside bid by Bruening and locked down the win.
Dolan had missed hot laps because of last-minute brake issues, then won his heat and drew out­side pole for the feature.
"I hadn't been to 34 since I won a 50-lap modified race that ran all green in 1996 or 1997. Man, I wanted to win there again," he said. "We forgot how to get to the track but once you get there, it's all left turns."
Bruening was second while DeFrance, extending his perfect series attendance mark to 486 events, was third. Rob Toland and Matt Ryan completed the top five while tour point leader Justin Kay ran sixth.
DeFrance was the winner of the $250 Sunoco Race Fuels feature qualifier drawing.
Dolan became the fifth different winner in the last five Deery events. The pre-holiday show at West Burlington had 37 entries, a series best this season, and included Californian Michael Hynes.
Next on the Deery schedule is the Wednesday, July 18 event at CJ Speedway in Columbus Junc­tion.
Feature results – 1. Ryan Dolan, Lisbon; 2. Tyler Bruening, Decorah; 3. Darrel DeFrance, Mar­shalltown; 4. Rob Toland, Colona, Ill.; 5. Matt Ryan, Davenport; 6. Justin Kay, Wheatland; 7. Andy Eckrich, Oxford; 8. Terry Neal, Ely; 9. Denny Eckrich, Tiffin; 10. Charlie McKenna, Ames; 11. Curt Martin, Independence; 12. Todd Cooney, Pleasant Hill; 13. Jeremiah Hurst, Dubuque; 14. Chuck Hanna, Port Byron, Ill.; 15. Nick Marolf, Moscow; 16. Sam Halstead, New London; 17. Rob Moss, Iowa City; 18. Joe Zrostlik, Long Grove; 19. Jay Johnson, West Burlington; 20. Curt Schroeder, Newton; 21. Chad Coyne, Orion, Ill.; 22. Doug Nigh, Maquoketa; 23. Gary Webb, Blue Grass; 24. Curtis Glover, Des Moines.