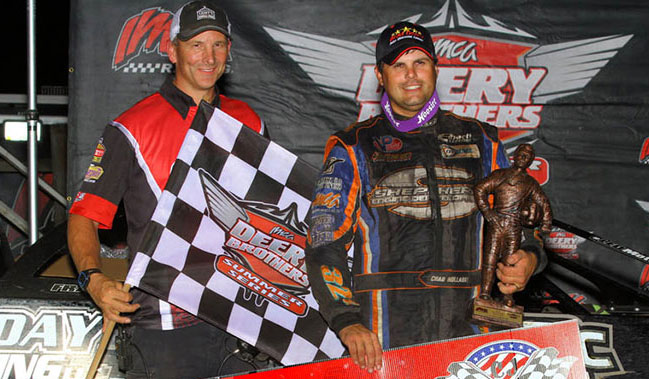 COLUMBUS JUNCTION, Iowa (July 18) – A very full house was on hand to welcome the Deery Brothers Summer Series back to CJ Speedway Wednesday night.
Chad Holladay led all 40 laps of the main event for touring IMCA Late Models, outrunning Denny Eckrich and Darrel DeFrance for his career second Deery win and $2,000.
Ryan Dolan and Nick Marolf rounded out the top five in the first series event held at Columbus Junction since 1996.
"There were a couple cautions that worked in my favor and took out lapped traffic at halfway and again with five to go," said Holladay. "You always want clean air ahead of you and we had a very good car tonight."
Holladay's night began inauspiciously, as he drew the last starting spot in his heat.
He won that race, however, and started outside DeFrance on the front row in the main event. Holladay used lower lines all the way around the oval and didn't have any problems in traffic.
"(Promoter) Larry Richardson is like a driver. Every week he wants to do better," said Holladay, a modified winner at CJ just two weeks ago. "The track took a little rubber but it was smooth and nice."
Todd Cooney started last in the field of 25 and finished ninth; point leader Justin Kay advanced a dozen places from his original starting spot and finished 10th.
Marolf was the $250 Sunoco Race Fuels feature qualifier drawing winner
Kurt Kile earned $1,000 and a Fast Shafts All-Star Invitational ballot berth for his IMCA Modified win and Damon Murty took home the top IMCA Sunoco Stock Car check of $500.
Next up for the Deery Series is another $2,000 to win, minimum $300 to start event on Wednesday, July 25 at Fayette County Speedway in West Union.
Feature results – 1. Chad Holladay, Muscatine; 2. Denny Eckrich, Tiffin; 3. Darrel DeFrance, Marshalltown; 4. Ryan Dolan, Lisbon; 5. Nick Marolf, Moscow; 6. Jeremiah Hurst, Dubuque; 7. Curt Martin, Independence; 8. Chuck Hanna, Port Byron, Ill.; 9. Todd Cooney; 10. Justin Kay, Wheatland; 11. Jay Johnson, West Burlington; 12. Richie Gustin, Gilman; 13. Joe Zrostlik, Long Grove; 14. Curt Schroeder, Newton; 15. Chad Coyne, Orion, Ill.; 16. Dave Wada, Wilton; 17. Andy Nezworski, Buffalo; 18. Rob Toland, Colona, Ill.; 19. Kyle Hinrichs, Swisher; 20. Gary Webb, Blue Grass; 21. Tim Simpson, Iowa City; 22. Andy Eckrich, Oxford; 23. Sam Halstead, New London; 24. Jeff Guengerich, Washington; 25. Terry Neal, Ely.