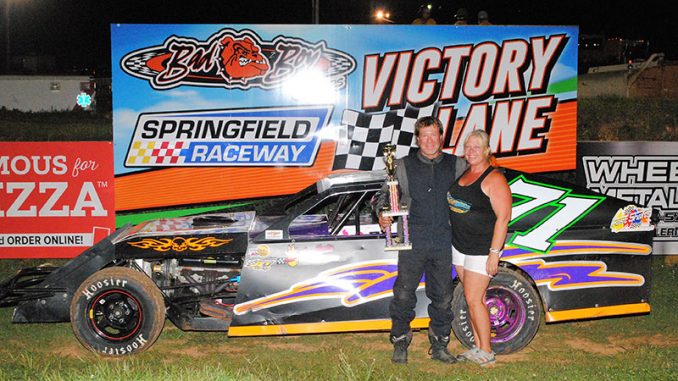 By Ronnie Williams  
SPRINGFIELD, Mo. (Aug. 10) – Veteran Chris Tonoli took advantage of track position and left the filed behind Saturday in The Bad Boy Mower IMCA Modified feature At The Quick-Quarter of Spring­field Raceway in collecting his IMCA win in the Show-Me State.
The California transplant, always a frontrunner in Modified and Street Stock racing in the area, converted his number 71 to the IMCA division as Springfield announced in the off season the move to the sanction.
"We just felt for our program, this made sense with the cost and changes. It has put the fun back into local racing for us," he said.
Tonoli has had some strong runs this season and had a late charge to third the previous Satur­day. He took off like a rocket ship on the green and led all 20 laps of the Aug. 10 feature with ease.
The real battle was for the runner-up spot between last week's winner Bobby Pearish and Trevor Drake, as Drake ran Pearish down late to secure second.
Pearish, James Thompson and Danny Demasters completed the top five. Tonoli's first of five IMCA wins in his home state came at Ventura in 1999.
After the opening lap caution for Jim Masoner Jr.'s spin, the fast-paced feature went caution-free with two- and sometimes three-wide action behind the leader.
IMCA Modified action continues next Saturday along with The Flying Farmer 55 honoring former area champion and Dirt Late Model Hall Of Famer Ken Essary.
Racing action starts at 7:30 p.m.