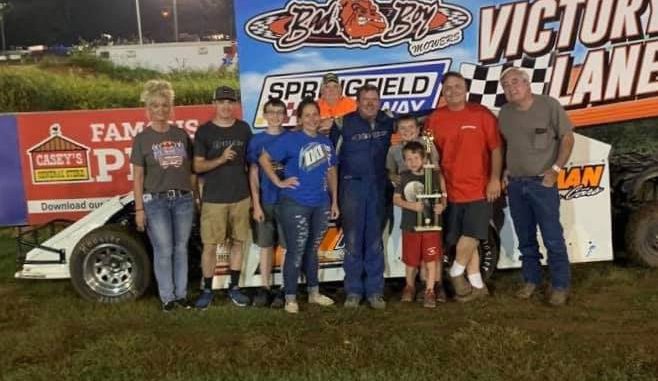 SPRINGFIELD, Mo. (Aug. 3) – Oronogo's Bobby Pearish thought he had it easy in The Bad Boy Mowers IMCA Modified main event Saturday at Springfield Raceway, until a lap 18 caution waved putting Arkansas hotshoe Shawn Walsh and Chris Tonoli right on his back bumper.
A strong restart kept Pearish on point as he captured his second feature win of the season.
Starting sixth on the grid, Pearish wasted no time in going to the front on the fast paced ¼-mile high-banked oval as a surprise Friday evening rain storm really had the track hooked up but still smooth.
While Pearish was running through the middle groove, Walsh began his charge from the 10th starting spot and then Tonoli found a quick line three-fourth's up the race track and was closing.
E3 Spark Plugs Missouri State point leader Clay Hale was riding steady as James Thompson quietly started forward progress while Pearish was hooked-up solid until a lap 18 caution flew, allowing the field to close up.
On the double-file restart, Walsh picked the low groove while third running Tonoli went outside. As the green flew, Walsh got right to Pearish's rear quarter but Bobby stayed in line to hold back Walsh's charge. Following the lead duo were Tonoli, Thompson and Hale.
This season is the first season back for Springfield Raceway in the IMCA Modified division since the mid 1980's and so far 34 different drivers have checked in with eight different winners out of 15 features.
Bad Boy Mowers IMCA action continues at The Quick-Quarter of Springfield Raceway next Saturday night with a full points program with racing action at 7:30 p.m. Pit gates open at 4:30 p.m. and check-in time cutoff is 6:45 p.m.