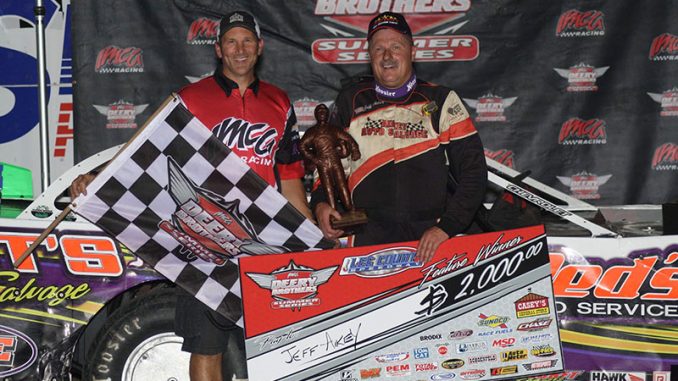 DONNELLSON, Iowa (Aug. 2) – It had been several years since the last time Lee County Speed­way hosted the Deery Brothers Summer Series. 
It had been even longer since Jeff Aikey drove to victory lane following an IMCA Late Model tour race at Donnellson.
Both absences ended Friday night.
Aikey finally caught passed race-long leader Andy Eckrich with four circuits left in the 40-lapper, then pulled away to the $2,000 checkers.
The victory was his second of the season and series-leading career 70th. Aikey's one previous Lee County win came in April of 1996.
"Andy was tremendous out there," said Aikey, equally quick to compliment the track prep crew at Donnellson. "And what a race track! High, low, you could run wherever you wanted to go. It was a great show for the fans."
John Emerson, 11th starting Tommy Elston and Joe Zrostlik completed the top five.
Eckrich had started from the pole and set a blistering pace on the initial start and again following the second of two lap 14 restarts. Eric Pollard, who's won his career-first Deery feature last week at West Union, had rolled to a stop in the second set of turns to bring out the first of those yellows.
Aikey passed Zrostlik for second by the time the next lap was scored and the race stayed green to the finish. Eckrich led by half a straightaway at lap 20 but Aikey kept up the chase through traf­fic, moving inside and to the front with four to go and then checking out.
Hard charger Brian Harris started last in the field of 24 and finished 11th. Zrostlik was the $250 Sunoco Race Fuels feature qualifier drawing winner.
Touring IMCA Late Models made their first appearance at Lee County since Sept. 4 of 2010 on Fri­day night.
A pair of Illinois tracks host the next two Deery events, with $2,000 to win features at Quad City Speedway in East Moline on Aug. 11 and at Quincy Raceway on Aug. 18.
Feature results – 1. Jeff Aikey, Cedar Falls; 2. Andy Eckrich, Oxford; 3. John Emerson, Water­loo; 4. Tommy Elston, Keokuk; 5. Joe Zrostlik, Long Grove; 6. Justin Kay, Wheatland; 7. Nick Marolf, Moscow; 8. Chad Holladay, Muscatine; 9. Sam Halstead, New London; 10. Joel Callahan, Dubuque; 11. Brian Harris, Davenport; 12. Darrel DeFrance, Marshalltown; 13. Andy Nezworski, Buffalo; 14. Matt Ryan, Davenport; 15. Curt Martin, Independence; 16. Gary Webb, Blue Grass; 17. Logan Duffy, Independence; 18. Dalton Simonsen, Fairfax; 19. Ron Boyse, Kalona; 20. Eric Pollard, Peosta; 21. Mike Smith, Kellogg; 22. Jay Johnson, West Burlington; 23. Kyle Hinrichs, Swisher; 24. Matt Strassheim, Morning Sun.