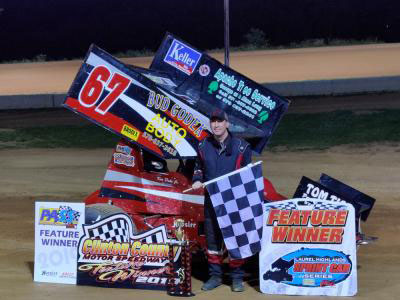 By Frank Buhrman
LOCK HAVEN, PA. (July 26) – Ken Duke Jr. emerged from an intense, nearly race-long three-car bat­tle to win the 25-lap IMCA RaceSaver Sprint Car event co-sponsored by the Pennsylvania Sprint Series and Laurel Highlands Sprint Series Friday at Clinton County Motor Speedway.
Duke took his sixth PASS event of the season and third at Lock have.
Most of the race was a dogfight between Duke, polesitter John Walp and outside front-row starter Dylan Proctor, with Proctor leading the most laps but all three drivers taking turns at the front.
After Duke, who had started third, grabbed the lead for the final time, Walp spun and had to re­start in the rear.
That enabled sixth starting Jack Frye to move into third but he was unable to challenge for the lead. Scott Ellerman finished fourth and Scott Lutz finished fifth.
Feature results – 1. Ken Duke Jr.; 2. Dylan Proctor; 3. Jake Frye; 4. Scott Ellerman; 5. Scott Lutz; 6. Reed Thompson; 7. Dakota Schweikart; 8. Jeffrey Weaver; 9. Dale Schweikart; 10. Tylor Cochran; 11. Josh Fox; 12. John Walp; 13. Ian Cumens; 14. Mike Murphy; 15. Dave Guss.