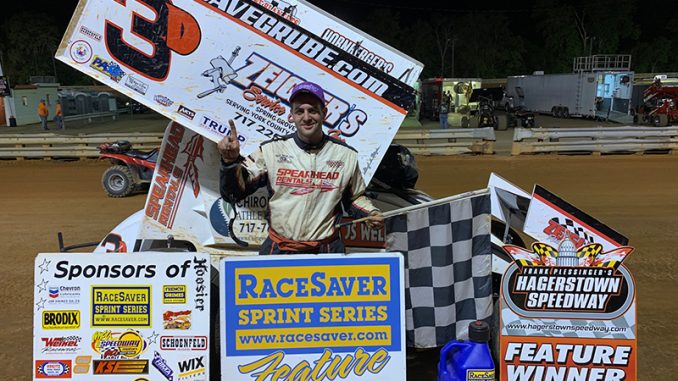 By Jim Haines 
HAGERSTOWN, Md. (May 22) – Dave Grube topped the 25-car field Saturday night in a Hagerstown Speedway event co-sanctioned by the Virginia Sprint Series and Laurel Highland Sprint Series.
Donny Hendershot and Alex Schmiedel paced the IMCA RaceSaver Sprint Car field to green and Hendershot out first but nobody was getting away. While leading on lap three, Hendershot slowed to a stop and Grube took over on the restart, bringing Brad Mellott with him.
The laps went by quickly on the wide smooth oval as Grube and Mellott entered lapped traffic with Jerald Harris and Dylan Shatzer closing in.
Shatzer got by Harris for third and was working on Mellott, allowing Grube to start inching away as the two raced for second. Shatzer got second and was making up ground as his line on the bottom was working better.
Time ran out, however, as Grube flashed under the waving checkered flag for his second win of the year, the first coming on May 1 with the Pennsylvania Sprint Series.
Shatzer, Mellott, Jeff Weaver and Ryan Lynn completed the top five.