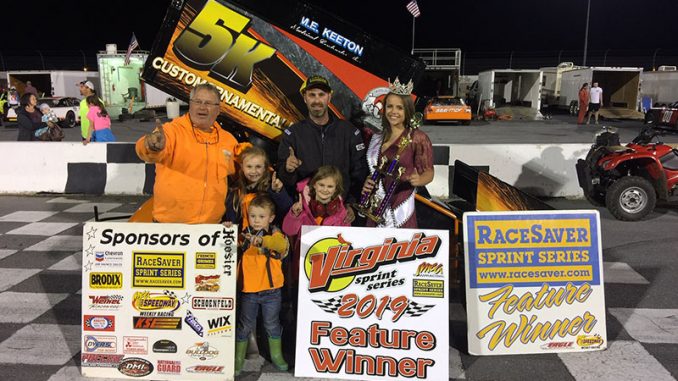 By Jim Haines 
SHENANDOAH, Va. (April 27) – The Norfolk Southern Railroad across the street from Shenandoah Speedway rumbles and roars when it rolls by, but on Saturday night Mike Keeton made his own noise and looked to be on rails as he sped to the Virginia Sprint Series feature win.
The feature-only IMCA RaceSaver Sprint Car event rolled to green with Josh Perreault and Chris Ware on the front with the two staying side by side until lap two the Ware edging out front.
Bill Rice came up to challenge Ware but his night ended early with a flat right front tire in the infield. On the restart, Ware jumped out but Keeton took over the top spot and sped away.
Jerald Harris and Glenn Worrell got by Ware but chasing down Keeton was not going happen without a caution as he powered to the win.
The next race will be the first Fast Friday event of the year at Dixieland Speedway on Friday, May 10.
Feature results – 1. Mike Keeton; 2. Jerald Harris; 3. Glenn Worrell; 4. Chris Ware; 5. Josh Perreault; 6. Matt Mullins; 7. Charlie Ware; 8. Bill Rice.