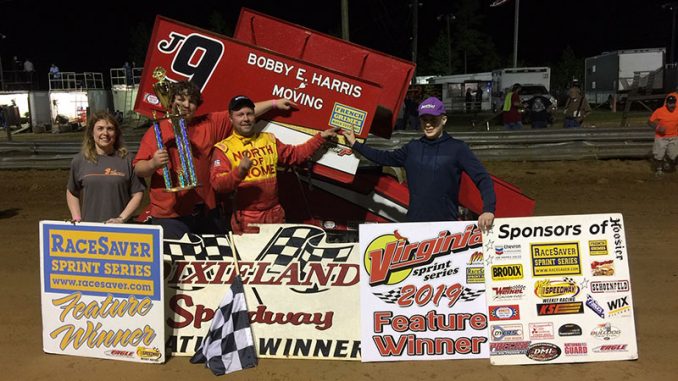 By Jim Haines 
ELIZABETH CITY, N.C. (May 10) – Jerald Harris moved to the top and took off for his first win of the year to top a Fast Friday Virginia Sprint Series field at Dixieland Speedway.
Charlie Ware and Bill Rice paced the IMCA RaceSaver Sprint Car field to green with Harris going to the top and flying around to lead lap one with Rice holding off John Karklin for second and Bron­zie Lawson in fourth.
Karklin got by Rice as did Lawson and Brandon McLain, but Harris was up high and rolling, keep­ing distance on the field. The top group was racing hard to catch Harris as the laps were clicking off with Andy Best and Jake Karklin trying work up through the field before laps ran out.
After a quick caution for a spin, Harris was back to the top and rolling. Lawson fell out but was replaced by Best. With the white flag in sight, Best was under John Karklin and Jake Karklin was all over his dad for third.
As the checkered waved, Harris flashed by for his first of the year with Best second and John Karklin holding of son Jake for third.
Next the Virginia Sprint Series will travel to Natural Bridge Speedway on Saturday, May18 .
Feature results – 1. Jerald Harris; 2. Andy Best; 3. John Karklin; 4. Jake Karklin; 5. Brandon McLain; 6. Daren Bolac; 7. Ben McCall; 8. Bill Rice; 9. Charlie Ware; 10. Chris Ware; 11. Bronzie Lawson; 12. Matt Mullins.