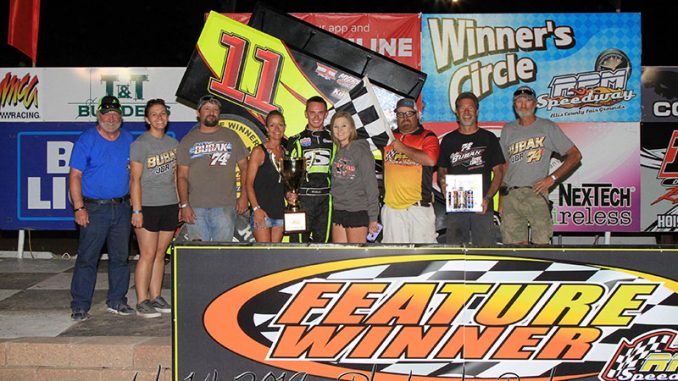 By David Smith Jr., OKTidbits 
HAYS, Kan. (July 14) – Continuing on his hot streak, Jake Bubak took the lead with eight laps left of the 30-lap feature and went on to claim the 11th annual Wheatshocker Nationals as the Lucas Oil POWRi United Rebel Sprint Series presented by Mel Hambelton Ford Racing wrapped up the two-race weekend Sunday night atop the RPM Speedway oval.
Bubak used a slower car to put a cushion between himself and Jed Werner in the final laps and claim his fifth series victory on the season. The IMCA RaceSaver Sprint Car victory earned him his second career Wheatshocker Nationals victory, a $2,000 paycheck and a Pit Boss Pellett Grill, courtesy of Lance Pittman and S&W Supply.
Luke Cranston and Werner had started on the front row with Cranston out front early before Wer­ner moved to the front.
Lap 11 saw Zach Blurton overtake Cranston for the runner-up position; on lap 19, Bubak passed Blurton and set his sights on the leader. The 2014 event winner pressured Werner for several laps before making what proved to be the winning pass on lap 22.
Cranston came back to claim the third spot.
In opening night action Saturday at Hayes, Jeremy Huish passed race-long leader Ty Williams just past midway, then held off a late race charge from Bubak to claim his first-career series vic­tory.
Williams kept the point the first 14 circuits before encountering slower cars, allowing Huish to close the gap. While working traffic, Huish made his move and powered into the lead on lap 15.
Hard-charger Bubak closed to second and got to within striking distance, but couldn't close the gap before the checkers flew for Huish. Williams ended in third.
Feature Results
July 13 – 1. Jeremy Huish; 2. Jake Bubak; 3. Ty Williams; 4. Koby Walters; 5. Zach Blurton; 6. Luke Cranston; 7. Jack Potter; 8. Jed Werner; 9. Ray Seemann; 10. Tyler Knight; 11. Taylor Ve­lasquez; 12. Shon Pointer; 13. Austin McLean; 14. Scott Cochran; 15. Brian Herbert; 16. Tracey Hill; 17. Darren Berry; 18. Kyler Johnson; 19. Steven Richardson; 20. Jordan Knight.
July 14 – 1. Bubak; 2. Werner; 3. Cranston; 4. Blurton; 5. Richardson; 6. Pointer; 7. Herbert; 8. Williams; 9. Velasquez; 10. Potter; 11. Hill; 12. Shane Sundquist; 13. McLean; 14. Jordan Knight; 15. Walters; 16. Huish; 17. Johnson; 18. Lance Davis; 19. Tyler Knight; 20. Cochran.