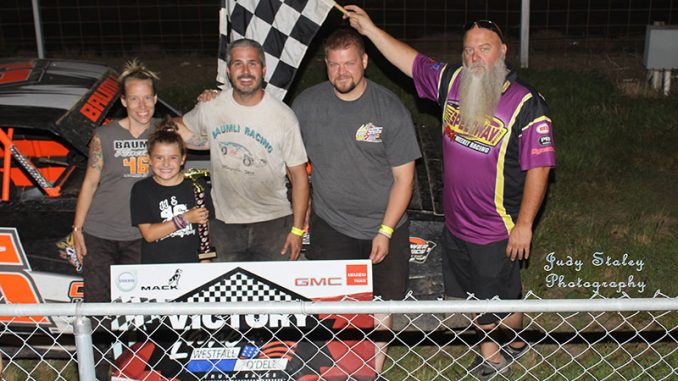 By Jacob Blair 
OSBORN, Mo. (July 12) – J.J. Baumli prevailed in what was arguably the best IMCA Sunoco Stock Car feature of the season Friday at US 36 Raceway.
Brad Whitney had jumped to the early lead but the field never gave him more than a few car lengths, as second through sixth swapped several times between multiple drivers. After all the moving around, Mich Ross and Baumli emerged as the two most able to challenge Whitney.
Ross ran the top and Baumli worked the middle to bottom lane of the track. They both converged on Whitney and with the laps winding down, the three found themselves three-wide for the lead with two to go.
With racing room hard to come by, Ross got too high in turn four and left the battle to Whitney and Baumli. Baumli cleared for the lead as the white flew and earned his first checkered flag of 2019. Whitney finished second. Blake Peeler ran a patient race as he took his time working through the field. After starting eighth, Peeler finished in third, needing one more caution to chal­lenge the leaders.
Chase Rudolf had struggled in his Karl Kustoms Northern Sport Mod heat race and found himself starting last in the feature. After making the necessary adjustments, he proved in the opening laps of the feature he had a fast race car.
Rudolf methodically moved his way into third as frontrunners Chris Wright and Cade Richards had a large gap on the rest of the field.
It looked as though the two would settle the race between themselves. Rudolf needed a caution if he were to add his name to the battle for the win. With four to go, the caution flew and Rudolf be­came an immediate contender.
On the restart, Wright got a good jump while Richards and Rudolf battled for second. Rudolf cleared Richards and focused on Wright. Wright ran the top of the track and Rudolf ran the bot­tom, setting up the late-race duel for the win.
The white flag was in the air when Rudolf drove deep into turn one. The car stuck and he got a run off turn two. The two battled down the backstretch, but Rudolf bettered Wright in turn four and cleared him for a trip to Westfall GMC Victory Lane in his first appearance at US 36. Wright fin­ished second with Richards third. Matt Lent finished fourth after battling for the lead early.