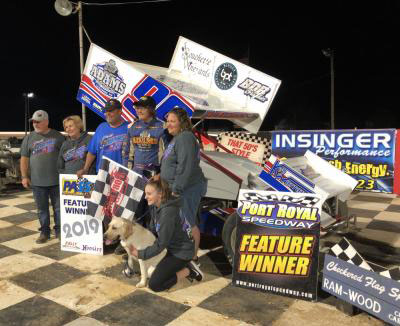 PORT ROYAL, Pa. (June 8) – Recent graduate Devin Adams worked hard for his high school diploma, then put that work ethic to good use on the race track, earning his first career Pennsylvania Sprint Series victory in Saturday's 20-lap feature at Port Royal Speedway. 
Adams, a Northern Lebanon High School graduate, took the lead from Jonathan Jones on the second lap and then held off repeated determined challenges from Jones to score the IMCA RaceSaver Sprint Car win.
"I knew he was there the whole race," Adams said, "and I knew if I could protect the bottom (in turns one and two), then I could hold him off, but I wasn't sure. It was a little close at the end . . . closer than I'd like."
Jones electrified the crowd when he spun in the fourth turn during one last desperate pass attempt for the lead. His car did a complete 360 and kept going, with Jones still salvaging a top five finish.
Christian Rumsey took second, defending PASS champion Zach Newlin, Dave Grube II and Jones.
All 26 race starters completed the non-stop feature, with 21 finishing on the lead lap. There were 38 entries in all.
Next Saturday, the PASS sprinters return to Hagerstown Speedway for an interregional event co-hosted by the Virginia Sprint Series.
Feature results – 1. Devin Adams; 2. Christian Rumsey; 3. Zach Newlin; 4. Dave Grube; 5. Jonathan Jones; 6. Ken Duke Jr.; 7. Cale Reigle; 8. Kassidy Kreitz; 9. Drew Ritchey; 10. Doug Dodson; 11. Scott Ellerman; 12. Robert Garvey; 13. Kyle Ganoe; 14. Fred Arnold; 15. Nick Sweigart; 16. Larry McVey; 17. Mike Alleman; 18. Landon Price; 19. Michael Wenrick; 20. Kirsten Hess; 21. Jake Waters; 22. Kruz Kepner; 23. Erin Statler; 24. Dominic Melair; 25. Dave Graber; 26. Kurt Knepper.