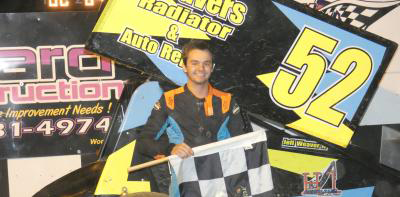 By Frank Buhrman
SPRING RUN, Pa. (July 25) – Jeffrey Weaver brought a modest Pennsylvania Sprint Series re­sume into Saturday's racing at Path Valley Speedway Park, but his track record took a huge leap when the former micro sprint racer earned his first IMCA RaceSaver Sprint Car win in one of the most hotly contested feature races of 2020.
Weaver, who had a pair of fourths as his best previous PASS finishes, started the feature on the outside pole and stood up this season's hottest PASS driver, Garrett Bard, and 2020 winners John Walp and Christian Rumsey on a night when there wasn't a lap without a two-, three-, or even four-car battle for the lead.
On every lap, Weaver looked fully at home among the giants.
With Walp, who led 20 laps, and Bard fighting furiously for the lead, running lap after lap side-by-side in the middle grooves, Weaver hung onto third, maintaining a consistent ultra-low line.
Just before a lap 17 caution, Weaver slipped past Bard, who was running high, and on lap 20, he ended a multi-lap, side-by-side duel with Walp and took over first.
Bard was able to best Walp for second on the last lap, with Rumsey, who had been looking for an opening to join the fight, coming home fourth. Brad Mellott, who had contested for the lead early and never fell far behind, finished fifth.
Feature results – 1. Jeffrey Weaver; 2. Garrett Bard; 3. John Walp; 4. Christian Rumsey; 5. Brad­ley Mellott; 6. Domenic Melair; 7. Scott Lutz; 8. Dylan Proctor; 9. Kenny Heffner; 10. Ken Duke Jr.; 11. Donnie Hendershott; 12. Justin Mills; 13. Kruz Kepner; 14. Larry McVay; 15. Landon Price; 16. Mike Alleman; 17. Dave Wickham; 18. Cody Hackenberry; 19. Andrew Boyer; 20. Kurt Knepper.