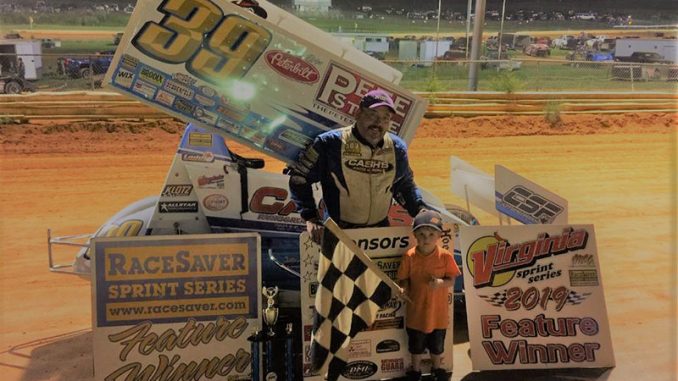 By Jim Haines
NATURAL BRIDGE, Va. (May 18) – On the first summer-like day Tom Humphries figured out what he needed to get back to victory lane.
Humphries topped the Saturday Virginia Sprint Series feature at Natural Bridge Speedway, becom­ing the fifth different IMCA RaceSaver Sprint Car tour winner in as many events so far this season.
Charlie Ware and Bill Rice started on the front row as the field went green with Rice out first. Rice tried to gap the field but Humphries stayed right on him.
Jerald Harris made his way after the front two, first getting by Charlie Ware and then Daren Bo­lac.
Humphries was by Rice and checking out as Harris closed, going low into second to take up the chase.
The laps clicked off as Harris kept closing as they went under the white flag they were side-by-side. Going in to turn one, Humphries had a cleaner line and pulled out a car length on Harris and he held it under the waving checkered flag.
Next it's off to Hagerstown Speedway on Friday, May 24 and Saturday, May 25 for the East Coast Nationals for IMCA RaceSaver Sprint Cars.
Feature results – 1. Tom Humphries; 2. Jerald Harris; 3. Bill Rice; 4. Daren Bolac; 5. Tony Har­ris; 6. Chris Ware; 7. Charlie Ware.