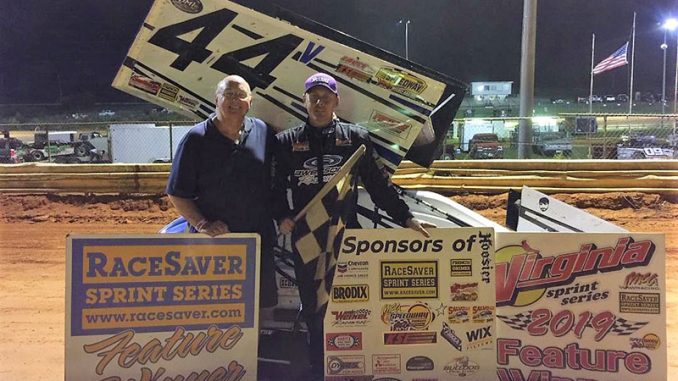 By Jim Haines
NATURAL BRIDGE, Va. (July 13) – Daren Bolac changed almost everything after his heat and it really paid off as he took his first Virginia Sprint Series win of the year Saturday at Natural Bridge Speedway.
Bill Rice and Bolac rolled the IMCA RaceSaver Sprint Car field to green with Bolac out first, Rice staying low in second and Mike Lerass and Nick Tucker fighting for third.
Lerass used Bolac's line to get a run on Rice and was quickly in second. Jerald Harris and Scott Lutz made their way to the front and soon got by Rice.
The rest of the field stayed in pursuit of the front duo, who continued a mistake-free high line, low line battle.
With 10 to go, Harris and Lutz got past Tucker and tried to chase down the lead pair. Bolac had the high line working coming out of the corners and Leraas has the low line working better getting into the corners.
Leraas was trying everything and with two laps to go got close on every turn, but Bolac stayed smooth and out front for his first win of the year.
Feature results – 1. Daren Bolac; 2. Mike Leraas; 3. Jerald Harris; 4. Scott Lutz; 5. Nick Tucker; 6. Bill Rice; 7. Tom Humphries; 8. Jake McLain; 9. Chris Ware; 10. Matt Mullins; 11. Charlie Ware.