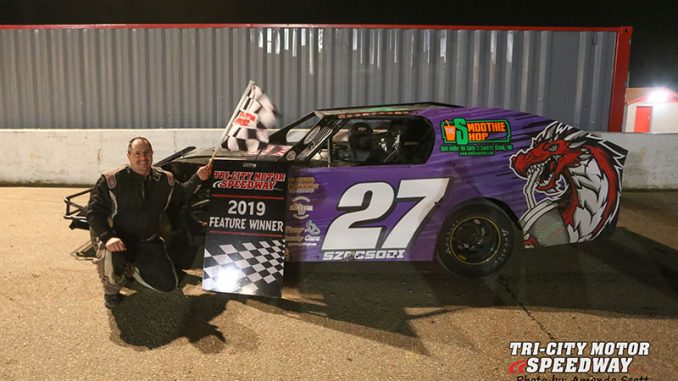 By Roger M. Williams
AUBURN, Mich. (April 26) – Inches made the difference between first and second as Matt Szecsodi raced to opening night Allstar Performance IMCA Modified honors at Tri-City Motor Speedway.
A field of 20 Modifieds, led by Toby Steele and Todd Matheson, took the green flag for their 20-lap penulti­mate race of the evening. Matheson took full advantage of his front row starting position to pull ahead of Steele and lead the initial 13 circuits before 2015 champion Myron DeYoung took his turn at the front.
He was in the midst of a hard-fought multi-driver duel that included Nate Jones, Szecsodi, Jacob Flick­inger and Craig Vance.
DeYoung found a rut in turn three that upset the handling of his machine which narrowed the lead battle to between Jones and Szecsodi. The duel would not disappoint as both drivers swapped the lead over the final two laps with Szecsodi stealing the win by inches over Jones at the finish.
Behind Jones came Matheson, Vance, and Flickinger.