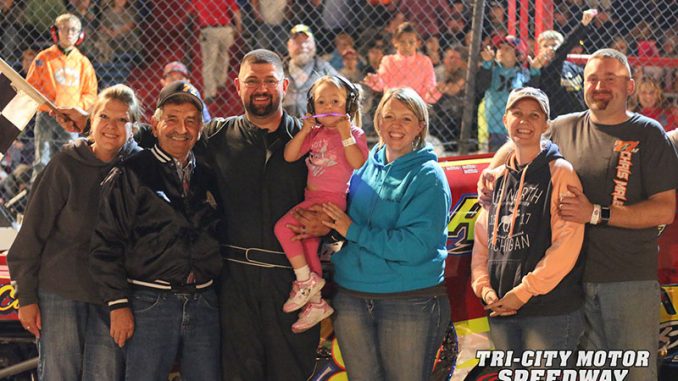 By Roger Williams
AUBURN, Mich. (July 27) – Nate Jones won his fifth IMCA Modified feature of the season at Tri-City Mo­tor Speedway on Friday, beating Matt Szecsodi to the checkers on autograph night.
The Main Street Seed and Supply IMCA Modified division took to the track for a 20-lap main event and Todd Matheson and Kevin McFarland brought the field of 20 to the green with Matheson immediately jump­ing to the front.
Matheson looked as if he was going to run away with the win until an issue with his car caused him to sud­denly spin in turn four with just four laps remaining. That spin also ended the night for third-running Chris Cohoon as he was unable to avoid Matheson.
With Matheson out, Jones was handed the lead and held off Szecsodi for his fifth feature win of the year. Chad Wernette, Gavin Hunyady and Chaz Pray wrapped up the remaining top five positions at the finish.