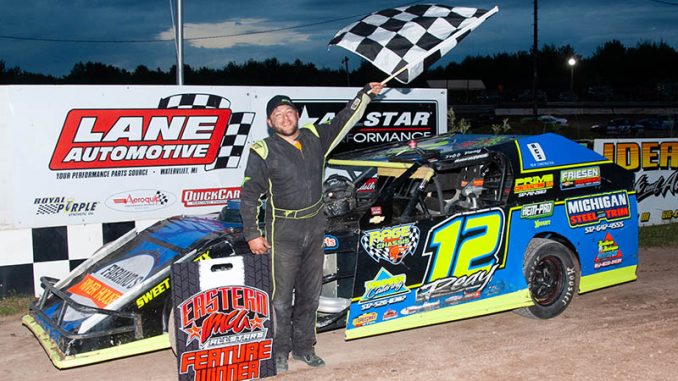 PORTLAND, Mich. (June 23) – After winning $2,000 on Friday night, Jeffrey Reay came up just three dollars short of matching that career-topping total in the second installment of the Eastern IMCA Allstars the following Wednesday.
Reay led all 30 laps of the June 18 IMCA Modified feature at Tri-City Motor Speedway. He outran defending Dirt Works Eastern Region champion Mitchell Hunt and former regional king A.J. Ward to the $1,997 checkers on June 23 at Thunderbird Raceway.
"We've got some tough guys we run against," said Reay, one of 28 entries at Auburn, one of 37 at Muskegon and already on the Fast Shafts All-Star Invitational ballot. "We're going to keep taking the wins as we get them and not get a big head on us."
He'd started outside pole at Tri-City and dueled with Ward before winning ahead of Brenten DeYoung. Reay motored from fourth starting and caught Kody Johnson for the front spot en route to his fourth win of the season at Thunderbird.
"It was fun. It was a fun track," the Portland driver said.
"We started out the season with a new car (a 2018 Rage) raced just four times before we got it and it was real good right out of the box. We've done some stagger and wheel spacer changes but not much else," he continued. "I've got a smart crew that knows what to do – I couldn't do this without them. Races are won in the garage and they always make sure everything is dialed in perfect."
Reay, who followed his father David into the Modified division, had another impressive although not winning performance to show for the weekend, racing from 18th starting all the way to third Saturday evening at Crystal Motor Speedway.