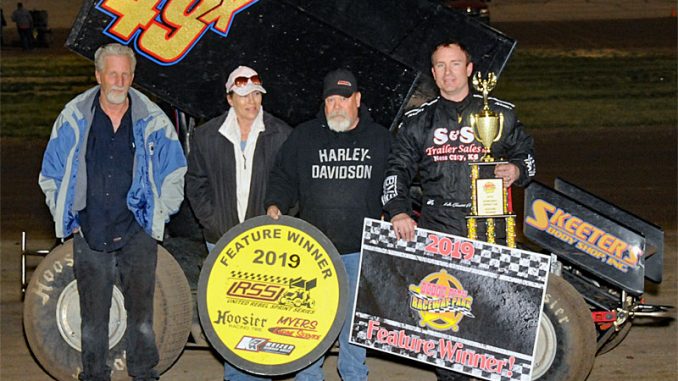 By Lonnie Wheatley
DODGE CITY, Kan. (April 6) – Luke Cranston opened the 2019 season at Dodge City Raceway Park by racing to victory lane in the 25-lap Precise Racing Products DCRP Sprint Cars vs. United Rebel Sprint Series feature event atop the 3/8-mile clay oval.
Cranston gridded the feature inside the third row as Brian Herbert and Koby Walters led the way to the green flag but it was fourth-starter Ty Williams battling into the early lead.
Vying for his third DCRP opening night win in the last five years, Williams paced the opening eight rounds before looping it in turn three to hand the lead over to Walters with Cranston on his tailtank.
Walters kept Cranston at bay for 10 rounds before Cranston finally found the opening he was looking for in traffic and battled into the lead on the 19th circuit. Cranston led the rest of the way, taking the checkered flag ahead of Walters with two-time track champion Taylor Velasquez racing to the third-place podium finish.
Herbert crossed the stripe fourth with Jake Martens rounding out the top five.
While Cranston bested the Sprint Car ranks, other opening night winners included Clay Money in the IMCA Modifieds, Dakota Sproul in the IMCA SportMods, Angel Munoz in the IMCA Stock Cars and Tathan Burkhart in the IMCA Sunoco Hobby Stocks as 108 cars filled the pit area.
Action resumes at Dodge City Raceway Park Saturday night, April 13, with the seventh annual Modified Stampede that features a $1,000 winner's share for the IMCA Modifieds along with a full card of Precise Racing Products DCRP Sprint Cars, IMCA SportMods, IMCA Stock Cars and IMCA Hobby Stocks.
Feature results – 1. Luke Cranston; 2. Koby Walters; 3. Taylor Velasquez; 4. Brian Herbert; 5. Jake Martens; 6. Andy Shouse; 7. Steven Richardson; 8. Jeremy Huish; 9. Jed Werner; 10. Tyler Knight; 11. Brandon Anderson; 12. Zach Blurton; 13. Kade Hagans; 14. Ty Williams; 15. Kyler Johnson; 16. Aaron Ploussard; 17. Jordan Knight; 18. Buddy Tubbs; 19. Todd Plemons; 20. Ray Seemann.