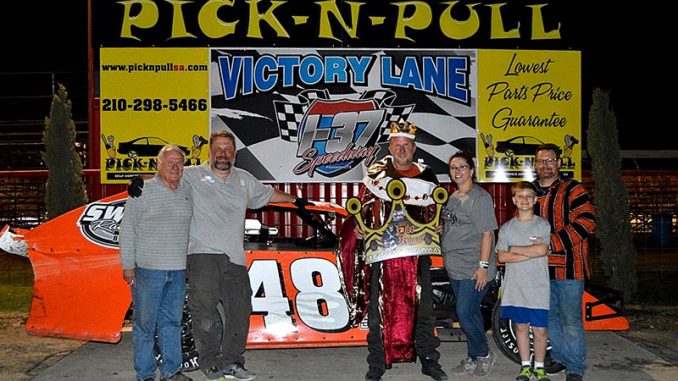 By J.M. Hallas 
PLEASANTON, Texas (March 23) – A back-and-forth battle finally went Chris Swenson's way Saturday at I-37 Speedway.
Swenson, Cody Leonard and Nebraska's Chad Andersen had a good three-car battle going for the top spot in the 20-lap IMCA Modified Dirt Kings main event. A caution set up a slide job duel between Swenson and Anderson as they swapped the lead for the final five laps before Swenson edged Andersen at the line to score the $1,000 win and Fast Shafts All-Star Invitational ballot berth.
"That was crazy," said Swenson. "Slide job city, really. We just kept going back and forth, back and forth. He'd slide me, I'd slide him. It was just who was the last to give one as the checkered flag flew."
"I was a little leery. I'm kind of old school back before we did slide jobs. It's one of those things that you really have to trust the guy. It puts on a great show, but it is kind of scary," he continued. "You're just waiting the guy to slide right into the side of you. He drove an excellent race, I just came out on top today."
Anderson had inched out front and led lap 19, running virtually wheel-to-wheel with Swenson. Swenson led down the backstretch with Anderson diving in turn three one last time.
Swenson crossed over and won the drag race to line by a wheel for the win. Leonard, Chris Car­roll and Marcus Mikulencak completed the top five.
After pre-race donations and passing the helmet at intermission the track raised nearly $1,000 for G.W. Egbert, injured in a racing incident the previous week, with others adding on after picking up their winnings.
Feature results – 1. Chris Swenson; 2. Chad Andersen; 3. Cody Leonard; 4. Chris Carroll; 5. Marcus Mikulencak; 6. Rick Green; 7. Jamie Campbell; 8. Garrett Gregory; 9. William Pittaway; 10. Mike Morris; 11. Justin Delgado; 12. Rowdy Flanagan; 13. Marlin Samford.