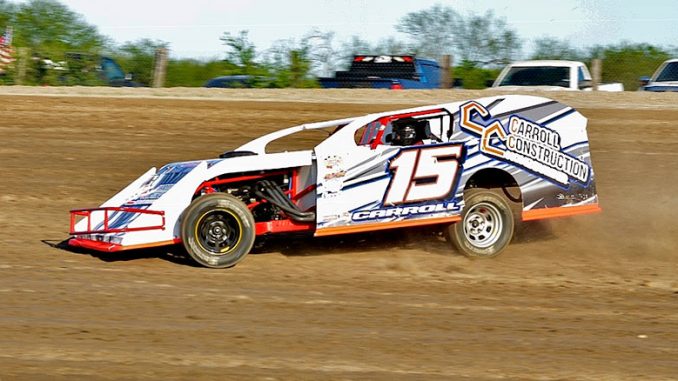 By J.M. Hallas
PLEASANTON, Texas (May 19) – After some early season bad luck, Chris Carroll parked his IMCA Modified in the winner's circle Saturday at I-37 Speedway.
Thanks to his wife, son and a couple grand in repairs, Carroll got by point leader Rick Green for the lead. Talon Minten was able to show him the nose after a late restart but Carroll was able to hold him off.
"It's my wife and son supporting me, first off," commented Carroll. "Colin put the car together and he made it come off the turns. It rotated through the middle real good. Rick (Green) slipped up a little bit and let me go."
"My son put the car back together after the crash earlier this year. There was about $2,000 in dam­age," he continued. "We basically torn the right front off and bent the bird cages, tires and wheels. Luckily, I have a kid that loves this stuff and got it all back together. He's a pretty good mechanic."
Minten ended in second and Green took third.