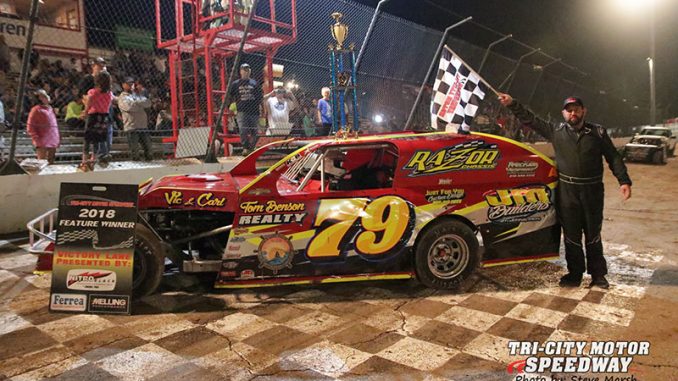 By Roger Williams
AUBURN, Mich. (Aug. 17) – Nate Jones won the Main Street Seed and Supply IMCA Modified feature and unofficial track championship Friday at Tri-City Motor Speedway.
A single point separated Jones and Matt Szecsodi going into the evening and their competition included A.J. Ward, looking to collect his 100th career IMCA feature win.
The pair of title contenders started mid-pack and Will Small took control early before Jones, using the bottom groove, took the top spot on lap five. He continued to run the bottom groove while a hard-charging Ward found speed in the top line.
Ward tracked down Jones and was poised to steal the lead before the caution flag flew. On the restart, Jones decided to run the high side. The move allowed Jones to pull away from Ward and to his seventh feature win of the 2018 season. The win, along with Szecsodi's finish of fourth, gave Jones the unofficial season title.