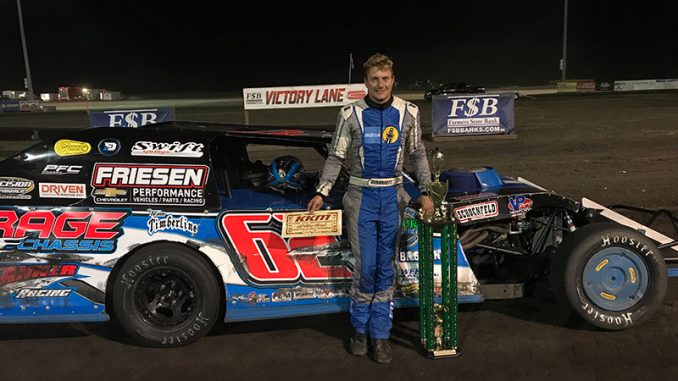 BRITT, Iowa (Aug. 9) – Hunter Marriott starred on a different night Thursday at Hancock County Speedway.
Marriott battled Cayden Carter and Kyle Strickler before taking charge late in Thursday's 24th annual Night of 1,000 Stars main event at Britt, earning $3,500 for the 50-lap IMCA Modified victory.
"I was patient and when I had opportunities I took advantage of them," Marriott said following his latest Fast Shafts All-Star Invitational ballot-qualifying win. "I got to second right away after the break and passed for the lead with about eight laps to go."
Last year's event runner-up as well as the two-time defending Night of 10,000 Stars winner, Marriott had worked his way toward the front from the 12th starting spot as early leader Strickler gave way to Carter following a restart.
Carter was dominant to the mandatory pit stop on lap 25, pocketing $1,000 for leading at halfway.
Marriott was up to third at that point and soon in pursuit of Strickler after the race went back to green.
The last 25 laps ran caution-free and Strickler, Marriott and Carter battled back and forth the last 10 times around the oval.
Strickler and Marriott touched twice racing for the lead before Marriott was able to work his way through lapped traffic and pull ahead by a couple car lengths.
Carter, Strickler, Mike Mashl and Jeff Aikey completed the top five. Kelly Shryock started 19th and finished sixth.
George Nordman won the  Karl Chevrolet Northern SportMod feature and $750. The $600 IMCA Sunoco Stock Car win went to Jake Masters and Cody Nielsen topped the IMCA Sunoco Hobby Stocks for a $500 check.
Feature Results
Modifieds – 1. Hunter Marriott; 2. Cayden Carter; 3. Kyle Strickler; 4. Mike Mashl; 5. Jeff Aikey; 6. Kelly Shryock; 7. Benji LaCrosse; 8. Ethan Dotson; 9. Tim Ward; 10. Todd Van Eaton; 11. Joel Rust; 12. Jeremy Mills; 13. Clay Money; 14. Mike Mullen; 15. Corey Dripps; 16. Josh Long; 17. Tom Berry Jr.; 18. Aaron Benson; 19. Randy Foote; 20. Jason Wolla; 21. Kody Scholpp; 22. Kollin Hibdon; 23. Nick Meyer; 24. Stacey Mills; 25. Troy Swearingen; 26. Jay Noteboom; 27. Mark Noble; 28. Richie Gustin; 29. Jesse Hoeft; 30. Jimmy Gustin; 31. Ryan Ruter.
Stock Cars – 1. Jake Masters; 2. Craig Berhow; 3. Heath Tulp; 4. Randy Brands; 5. Cody Frerichs; 6. Pete Alexander; 7. Kody Scholpp; 8. Scott Yale; 9. Derek Moede; 10. Jeff Dolphin; 11. Parker Slagle; 12. Andrew Borchardt; 13. Buck Schafroth.
Hobby Stocks – 1. Cody Nielsen; 2. Chanse Hollatz; 3. Drew Barglof; 4. Scott Dobel; 5. Tony Smidt; 6. Blaine Hanson; 7. Ben Peterson; 8. Tommy Beekman; 9. Kenzie Ritter.
Northern SportMods – 1. George Nordman; 2. Cody Thompson; 3. Mathew Hanson; 4. Johnathon Logue; 5. Colby Fett; 6. Andrew Inman; 7. Ryan Hiscocks; 8. Ethan Braaksma; 9. Nate Whitehurst; 10. Brady Joynt; 11. Brett Meyer; 12. Autumn Anderson; 13. Tyler Bragg; 14. Gerald Curry; 15. Nate VanSchepen; 16. Thomas Nelson; 17. Jeremiah LaDue; 18. Greg Magsam.