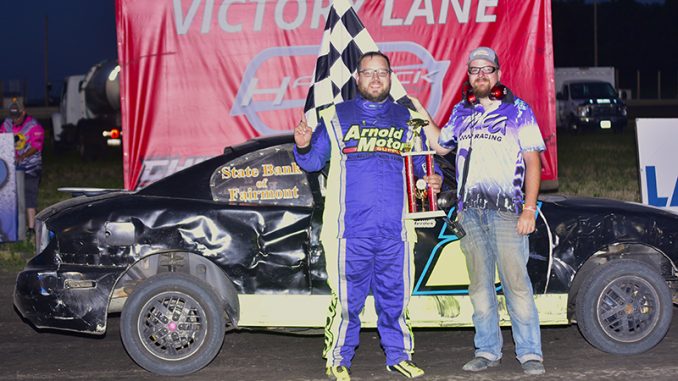 BRITT, Iowa (July 1, 2022) – Long-time flagman and part-time Mach-1 IMCA Sport Compact driver Logan Kelly gave young son Hendrick something different to talk about.
Kelly went to the high line after racing his way back to the front of the field at Hancock County Speedway en route to his IMCA career first feature win on July 1.
"We were just plain fast and for once in my life I didn't make any mistakes in the race car. That was the big thing. It was a confidence building night," said Kelly, from Fairmont, Minn., and also a first-time heat race winner Friday night. "Hendrick was pretty excited to see the trophy when he got up the next morning."
"We'd broken an axle our first week at Britt and he's been telling people 'Daddy drove off the track.' Hopefully we can get him talking about how dad brought home a trophy."
The site of Kelly's first win was also special.
"It was neat to win here. My dad Jim never raced but he helped other guys and three years ago he passed away while we were at the track in Britt," he explained. "So it means a lot for me to get one there."
Kelly raced go karts, Hobby Stocks and a Northern SportMod before getting into the Sport Compact last summer. Previously the second most successful driver in the family – wife Ashlee had led Lady Eagle point standings at one point in her own Sport Compact career – he began flagging in 2015 and now mans the stand Thursdays at Kossuth County Speedway in Algona and Saturdays at Boone Speedway.
He began flagging at the IMCA Speedway Motors Super Nationals fueled by Casey's in 2016.
Store manager for Arnold Motor Supply in Fairmont, Kelly typically works on the car Mondays and Tuesdays. Wednesdays are a designated night off, he flags on Thursdays and Saturdays and races on Fridays.
Sunday is family time.
"With family and flagging and work, I don't get to race that much. To run eight or nine times a year and beat guys who race weekly or two or three times a week and have a lot more seat time was pretty neat," Kelly said. "We thought we were going to get a win in Worthington a couple weeks ago and it didn't work out. We finished second at Britt the last time we raced here and decided to come back. It was worth the trip."
"I get to go to victory lane five or six times a night when I'm in the flagstand," he added. "It's not very often when the flagman gets the win. I'm just glad I passed tech."