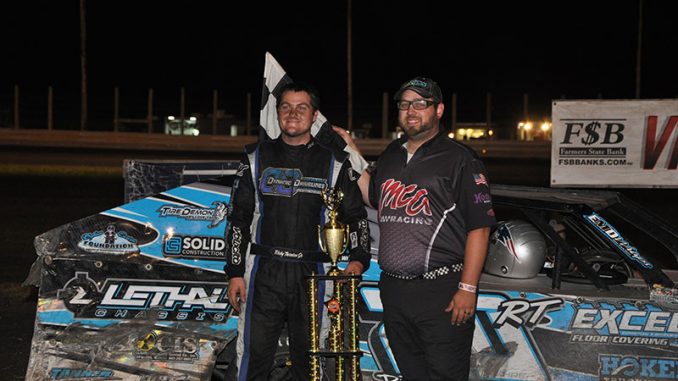 BRITT, Iowa (Aug. 8) – At halfway, Ricky Thornton Jr. had to be wondering if fuel issues were going to resurface and knock him out of the running.
But at the end of Hancock County Speedway's 25th annual IMT Transport Night of 1,000 Stars feature for IMCA Modifieds Thursday night, Thornton was standing in victory lane with another tall tro­phy and a check for $4,500.
Thornton caught Benji LaCrosse for the front spot just five laps before the mandatory front stretch pit­stop on lap 25. He maneuvered through traffic as the second half of the 50-lapper ran caution free, beating Tom Berry Jr. to the finish line by two-plus seconds.
"Winning tonight was huge," said Thornton, already on the Fast Shafts All-Star Invitational ballot and looking forward to Night of 10,000 Stars and Bob Shryock Memorial All Stars events at Britt. "When you run good tonight, it helps set the tone for the rest of the week."
2011 race winner LaCrosse started third, had Thornton right behind for a couple early restarts and brought Thornton along into lapped traffic the 15th time around the track.
Thornton darted inside to take the lead away on lap 20 and was still up front when the third and final caution of the night came out on lap 23.
Three or four turns of a wrench and another 22 gallons of fuel in the cell solved the issues that concerned him mid-race. The 12th starting Berry caught LaCrosse for second with nine laps to go but couldn't deny Thornton his 24th feature win of the season as well.
LaCrosse, Ethan Dotson and 14th starting Jake O'Neil rounded out the top five.
"There were a lot of good cars here tonight. Benji was really good but I was able to move around in traffic. I think that's going to be crucial the next two nights," Thornton said.
Friday's Night of 10,000 Stars at Britt pays $7,000 to win, plus a $1,000 bonus to the halfway leader. Thornton can pick up an additional $1,000 with a second straight trip to victory lane. He'd won for the first time at Britt at last year's Night of 10,000 Stars.
The Saturday Shryock Memorial pays $3,000 to win.
Both events are qualifiers for the 2020 Fast Shafts All-Star Invitational ballot and will be broadcast by IMCA.TV.
Other Thursday winners at Hancock County Speedway were Derek Green in the IMCA Sunoco Stock Cars, Cody Nielsen in the IMCA Sunoco Hobby Stocks and Brayton Carter in the Karl Kus­toms Northern SportMods.
Feature results – 1. Ricky Thornton Jr., Adel; 2. Tom Berry Jr., Newburg, N.D.; 3. Benji La­Crosse, Green Bay, Wis.; 4. Ethan Dotson, Bakersfield, Calif.; 5. Jake O'Neil, Tucson, Ariz.; 6. Cayden Carter, Oskaloosa; 7. Kyle Brown, Madrid; 8. Cody Laney, Torrance, Calif.; 9. Nick Meyer, Whittemore; 10. Mike Mullen, Seymour, Wis.; 11. Ryan Ruter, Clear Lake; 12. Tim Ward, Har­court; 13. Kelly Shryock, Fertile; 14. Jeff Larson, Freeport, Ill.; 15. Mike Mashl, DePere, Wis.; 16. Jeremy Mills, Britt; 17. Kody Scholpp, Estevan, Sask.; 18. Mark Noble, Blooming Prairie, Minn.; 19. Aaron Benson, Clear Lake; 20. Troy Swearingen, Thompson; 21. Kollin Hibdon, Pahrump, Nev.; 22. J.J. Wise, Garner; 23. Clint Wendel, Mason City; 24. Brian Mullen, Seymour, Wis.; 25. David Brown, Kellogg; 26. Cody Knecht, Whittemore; 27. Ben Kraus, Britt; 28. Richie Gustin, Gil­man; 29. Austin Wolf, Algona; 30. Al Hejna, Clear Lake.