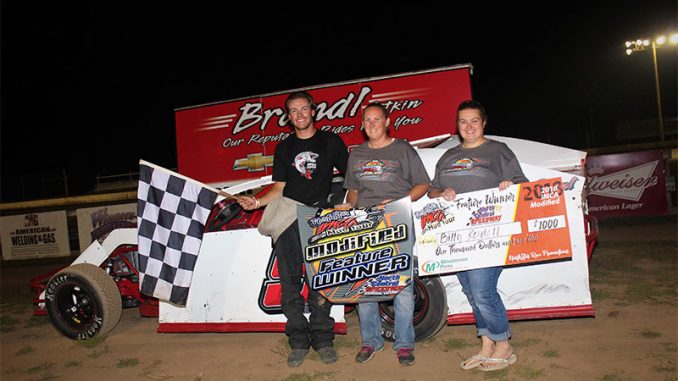 BRAINERD, Minn. (Aug. 11) – Billy Kendall's second Northstar IMCA Modified Tour victory in as many nights put a second $1,000 check in his pocket.
Kendall drew the pole Saturday night for the main event at his home track North Central Speedway and duplicated his winning run Friday at Princeton, leading all 30 laps.
The only caution of the contest came on lap two. Kendall was quickly through lapped traffic and won by a straightaway ahead of defending national champion Jason Wolla.
"We've been lucky to start on the front row two nights in a row but it was another good, solid night for us," said Kendall, who'd put his name on the 2019 Fast Shafts All-Star Invitational ballot with the Friday checkers. "This is the first time this season we've won on back-to-back nights. This was definitely the weekend to do it."
"The track was amazing tonight," added Kendall, who lives minutes away from the Brainerd oval and started his racing career there. "You could run low, middle, high, anywhere on it."
Wolla had started 10th. Rounding out the top five were Rob VanMil, Clint Hatlestad and Mike Hansen.
Mark Martini was the Karl Chevrolet Northern SportMod winner.
Feature Results
Modifieds – Billy Kendall; 2. Jason Wolla; 3. Rob VanMil; 4. Clint Hatlestad; 5. Mike Hansen; 6. Shawn Fletcher; 7. Ryan Canon; 8. Luke Hines; 9. Erick Thiese; 10. A.J. Viehauser; 11. Aaron Johnson; 12. Justin Jones; 13. Rick Jacobson; 14. Rich Pavlicek; 15. Toby Patchen; 16. Josh Beaulieu; 17. Seth Kramer; 18. Chad Funt; 19. Adam Johnson; 20. Dylan Nelson.
Northern SportMods – 1. Mark Martini; 2. David Siercks; 3. Troy Jordan; 4. Jake Hagemann; 5. Jason Vejtruba; 6. Dru Nelson; 7. Adam Bohlman; 8. Chris VanMil; 9. Scott Jacobson; 10. Cody Erickson; 11. Kelly Jacobson; 12. Dan Dowling; 13. Jacob Jordan; 14. Dustin Hartwig; 15. Ariel Mueller; 16. Vince Corbin; 17. Mike Johnson; 18. Nathan Sabinash; 19. Kyle Krogh; 20. Todd Rizer; 21. Brendon Yamry; 22. Tom Anderson; 23. Pete Hines.