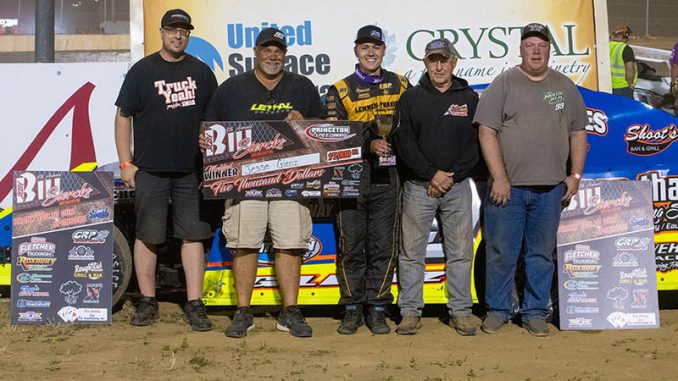 PRINCETON, Minn. (June 24) – Jesse Glenz led the last three laps. Jordan Grabouski led the last few feet.
Both earned $5,000 IMCA feature wins Thursday night at Princeton Speedway's Bill Siercks Memorial, the first of four rich Land of Ten Thousand Lakes 10K events this week.
Glenz put his name on the Fast Shafts All-Star Invitational ballot with his Modified win, sliding past race-long leader Terry Phillips on the 28th of 30 Modified circuits. After a late caution erased Eric Arneson's big lead, Grabouski made a last-lap run on the high side of the oval to steal the victory away by less than seven one hundredth's of a second and earn a starting spot in the B & B Chassis All-Star Invitational at the upcoming IMCA Speedway Motors Super Nationals fueled by Casey's.
Brayton Carter was the $2,500 Karl Kustoms Northern SportMod winner and Rod Manthey topped the $750 to win IMCA Sunoco Hobby Stock feature. In all, 224 drivers from 16 states and Canada competed at the fourth annual event.
Phillips had led the otherwise fast-paced Modified main through stoppages on laps 12 and 20. Jake McBirnie was closing before the second yellow and Glenz was quickly into second on the restart that followed.
The Chippewa Falls, Wis., speedster closed in on Phillips before driving by with three to go. Phillips, McBirnie, Cayden Carter and a charging Cody Laney completed the top five.
Arneson had checked out after passing Bob Daniels for the front spot 10 laps into the Stock Car feature. Grabouski worked his way to second with 10 laps left and the front pair swapped the lead with four to go before Grabouski pulled out the nailbiter.
Devin Snellenberger, 24th starting Dallon Murty and Jeremy Christians were next across the stripe.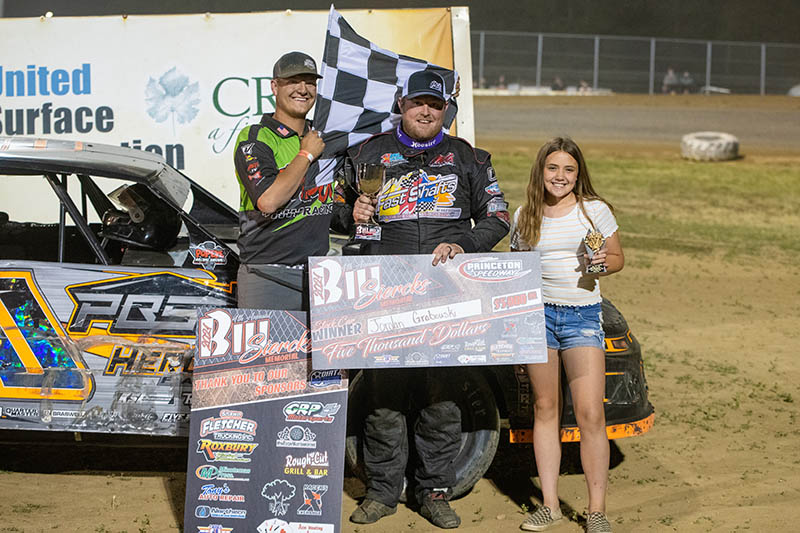 Jordan Grabouski has won a lot of races in his IMCA career but few with a finish as close as his $5,000 run to the Stock Car checkers Thursday at Princeton Speedway. (Photo by Blake Christenson)
Brayton Carter took charge on the final lap 15 restart, passing Justin Jones and staying in front to the finish of the Northern SportMod feature.
Jayden Schmidt started 13th and was promoted to the second spot following the post-race disqualification of Jones for a fuel system infraction. Jared Boumeester, Jim Horejsi and Jake Hagemann were scored third through fifth.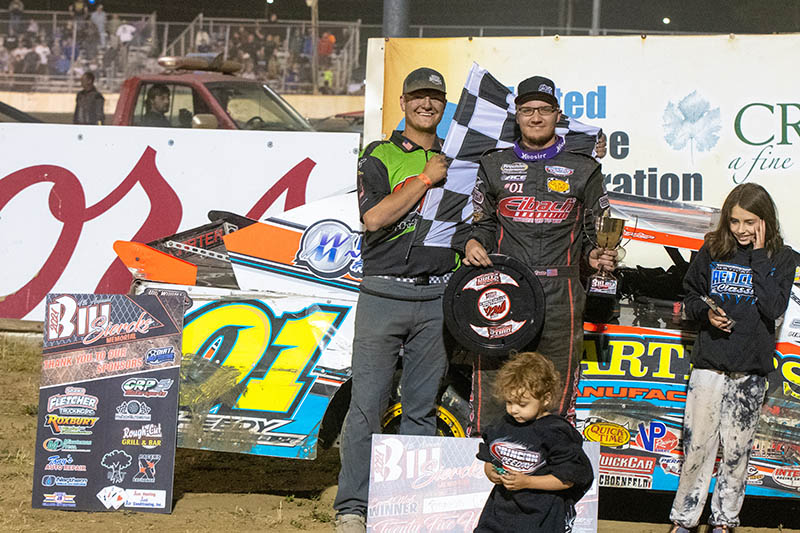 Speedy Brayton Carter topped the Thursday $2,500 to win Karl Kustoms Northern SportMod feature at Princeton Speedway's Bill Siercks Memorial. (Photo by Blake Christenson)
And Manthey was the winner of a 15-lap Hobby Stock feature slowed by just a single, early caution. Devin Larson closed but ran out of laps and ended in second. Third went to Dave Johnson.
Both the IMCA Modifieds and IMCA Sunoco Stock Cars run for $5,000 to win and the Northern SportMods for $2,500 to win in Friday's Land of Ten Thousand Lakes 10K show at North Central Speedway.
Top checks are $10,000 for Modifieds and Stock Cars and $5,000 for SportMods Saturday at Brainerd and Sunday at Granite City Motor Park in Sauk Rapids.
All three race nights will be broadcast by SPEEDSPORT.TV affiliate IMCA.TV.
Feature Results
Modifieds – 1. Jesse Glenz; 2. Terry Phillips; 3. Jake McBirnie; 4. Cayden Carter; 5. Cody Laney; 6. Jordan Grabouski; 7. Mike Mullen; 8. Benji LaCrosse; 9. Jacob Dahle; 10. Toby Patchen; 11. Peyton Taylor; 12. Ethan Dotson; 13. Kyle Brown; 14. Brandon Schmitt; 15. John Hansen; 16. Collin Thirlby; 17. Trey Duensing; 18. Lucas Lamberies; 19. Tripp Gaylord; 20. Johnny Whitman; 21. Clay Money; 22. Casey Arneson; 23. Tanner Black; 24. Josh Long.
Stock Cars – 1. Jordan Grabouski; 2. Eric Arneson; 3. Devin Snellenberger; 4. Dallon Murty; 5. Jeremy Christians; 6. Derek Green; 7. Bob Daniels; 8. Dan Mackenthun; 9. Troy Burkhart; 10. Kenneth Richards; 11. Jason Rogers; 12. Jeffrey Larson; 13. Dustin Larson; 14. Elijah Zevenbergen; 15. Damon Murty; 16. Jason Helmbrecht; 17. Dylan Smith; 18. Brennan Borg; 19. Abe Huls; 20. Tim Pessek; 21. Matt Speckman; 22. Dylan Thornton; 23. Erick Thiesse; 24. Benji LaCrosse.
Northern SportMods – 1. Brayton Carter; 2. Jayden Schmidt; 3. Jared Boumeester; 4. Jim Horejsi; 5. Jake Hagemann; 6. Cam Reimers; 7. Timothy Warner; 8. Logan Anderson; 9. Jason Vejtruba; 10. Erik Gruhlke; 11. Jadin Fuller; 12. Jake Kierstead; 13. Michael Johnson; 14. Chris Budzban; 15. Geoff Jeche; 16. David Siercks; 17. Kevin Johnson; 18. Chris Siercks; 19. Jacob Jordan; 20. Chad Ryerson; 21. Vince Corbin; 22. Shane Paris.
Hobby Stocks – 1. Rod Manthey; 2. Devin Larson; 3. Dave Johnson; 4. Luke Trebelhorn; 5. Ryan Kleinschmidt; 6. Scott Herron; 7. Chase Peterson; 8. Cory Lodermeier; 9. Curt Derichs; 10. Brandon Bombardo; 11. Chris Seidel.