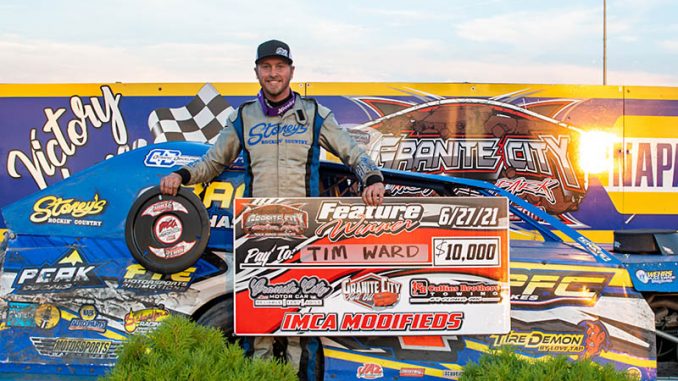 SAUK RAPIDS, Minn. (June 27) – Tim Ward and Dallon Murty ended Land of Ten Thousand Lakes 10K Week with $10,000 feature wins while Brayton Carter's $5,000 checkers bookended the richest week ever of IMCA racing in Minnesota.
Ward wired the IMCA Modified 50-lapper Sunday at Granite City Motor Park, chased every time around the quick 3/8-mile Sauk Rapids oval by Cody Laney while Murty made his way to the lead from 10th starting just before halfway of the 50-lap IMCA Sunoco Stock Car main and outdistanced Elijah Zevenbergen.
Winner of the opening night feature Thursday at Princeton, Carter led start to finish of the 30-lap Karl Kustoms Northern SportMod main event, besting Colby Fett and hard-charging Jim Horejsi.
Fifteen states were represented in the Land of Ten Thousand Lakes 10K finale.
Ward found speed on the extreme high line at the start of the Modified main, bringing Laney and Jordan Grabouski into lapped traffic before the only caution of the race came out on the 18th circuit.
He caught up with the back of the back by midway, using all the track to work through the field and protecting the inside line in the late going.
"This is crazy," Ward said following his fourth Fast Shafts All-Star Invitational ballot qualifying victory of the year. "It was a fun race track tonight."
Ethan Dotson advanced from ninth starting to third, Joel Rust was fourth and rounding out the top five was Steven Bowers Jr.
Zevenbergen set a fast early pace in the Stock Car feature while Murty made his way to the top five by lap 16 and was into the top three in lap 20. He made his way past Luke Lemmens, then caught Zevenbergen and set sail.
Lemmens dropped out of second following a lap 36 caution. The 16-year-old Murty booked it from that point, taking the $10,000 checkers ahead of Zevenbergen, 13th starting Devin Snellenberger, his father Damon, who'd started 20th, and Kyle Heckman.
The B & B Chassis All-Star Invitational qualifying win was the second for the younger Murty.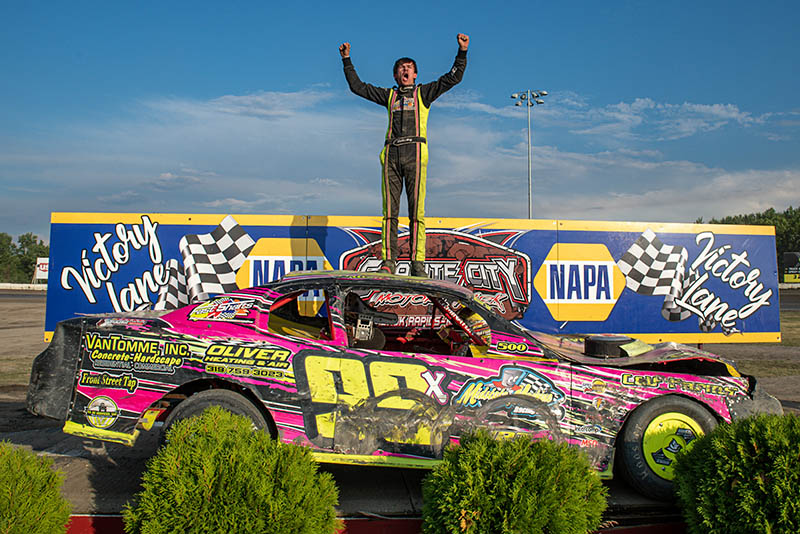 Tenth starting Dallon Murty celebrates his $10,000 IMCA Sunoco Stock Car win at Sunday's Land of Ten Thousand Lakes 10K show at Granite City Motor Park. (Photo by Blake Christenson)
And after a yellow on the initial start, Carter led the Northern SportMods through 23 fast-paced laps, with the tenacious Fett just half a car length off the pace before back-to-back cautions on lap 24.
Carter couldn't and would' be caught from that point, however. Fett, the 12th starting Horejsi, David Siercks and Erik Gruhlke were next across the stripe.
"Once I got to clean air I knew I could get to the top line and hit my marks," Carter said. "It was a fun race."
Feature Results
Modifieds – 1. Tim Ward; 2. Cody Laney; 3. Ethan Dotson; 4. Joel Rust; 5. Steven Bowers Jr.; 6. Jordan Grabouski; 7. Austin Howes; 8. Mike Mullen; 9. Terry Phillips; 10. Jesse Glenz; 11. Marcus Yarie; 12. Wyatt Block; 13. Cayden Carter; 14. Jeff Taylor; 15. Justin Oestreich; 16. Josh Anderson; 17. Trey Duensing; 18. Dan Roedl; 19. Collen Winebarger; 20. Brandon Schmitt; 21. Kyle Heckman; 22. Matt Gilbertson; 23. Peyton Taylor; 24. Tripp Gaylord; 25. Brandon Beckendorf; 26. Tanner Black.
Stock Cars – 1. Dallon Murty; 2. Elijah Zevenbergen; 3. Devin Snellenberger; 4. Damon Murty; 5. Kyle Heckman; 6. Kyle Brown; 7. Dylan Smith; 8. Dylan Thornton; 9. Jason Helmbrecht; 10. Tim Pessek; 11. Jordan Grabouski; 12. Taylor Willms; 13. Brandon Beckendorf; 14. Luke Lemmens; 15. Kenneth Richards; 16. Eric Arneson; 17. Troy Jerovetz; 18. Troy Burkhart; 19. Jeremy Christians; 20. Dustin Larson; 21. Derek Brown; 22. David Brandies; 23. Jeffrey Larson; 24. Bob Daniels; 25. Abe Huls; 26. Benji LaCrosse.
Northern SportMods – 1. Brayton Carter; 2. Colby Fett; 3. Jim Horejsi; 4. David Siercks; 5. Erik Gruhlke; 6. Jake Hagemann; 7. Jared Boumeester; 8. Logan Anderson; 9. Nate Albrant; 10. Craig Dorner; 11. Zach Davis; 12. Zachery Schreder; 13. Dean Cornelius; 14. Tim Bergerson; 15. Nick Kipka; 16. Cory Pestotnik; 17. Torey Fischer; 18. Jake Sachau; 19. Hunter Longnecker; 20. Cole Czarneski; 21. Mark Martini; 22. Skyler Woods; 23. Brendon Yamry; 24. Thomas Behle; 25. Jadin Fuller; 26. Cole Suckow.