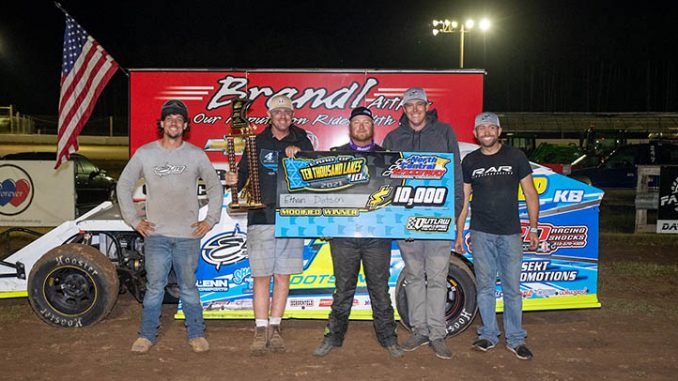 BRAINERD, Minn. (June 26) – IMCA drivers with a history of coming up big at big events made some history again Saturday night. 
Ethan Dotson led all 30 laps of the IMCA Modified feature that brought out the final checkers of the Land of Ten Thousand Lakes 10K show at North Central Speedway while Benji LaCrosse outran home state foe Luke Lemmens in an IMCA Sunoco Stock Car barnburner that ended green, white, checkers.
Modified and Stock Car features paid $10,000 to win, while Jake Sachau earned $5,000 for his Karl Kustoms Northern SportMod victory. Night three of the richest week of IMCA racing in Minnesota brought 224 cars, from 17 states, to Brainerd.
Already a Fast Shafts All-Star Invitational ballot qualifier multiple times over, Dotson started outside Jordan Grabouski on the front row and ran away from everybody, catching up with the back of the Modified field just after midway.
The event ran caution-free and Dotson had lapped cars as a cushion before taking the victory almost five seconds ahead of Grabouski, who'd won Land of Ten Thousand Lakes 10K Friday and Saturday Stock Car events.
Mike Mullen's late drive netted him third over Friday winner Tanner Black and Kyle Brown rounded out the top five.
LaCrosse took the front spot from Damon Murty three laps into the Stock Car feature with fellow Wisconsin heavyweight Lemmens moving to second just before midway. 
LaCrosse had pulled ahead before cautions put the pack on his back bumper twice in the late stages. Lemmens was unable to find a way past on the inside the last two times around, crossing the stripe seven tenth's of a second off the pace.
The win guarantees LaCrosse a starting spot in the B & B Chassis All-Star Invitational. Murty, Kenneth Richards and Matt Speckman completed the top five.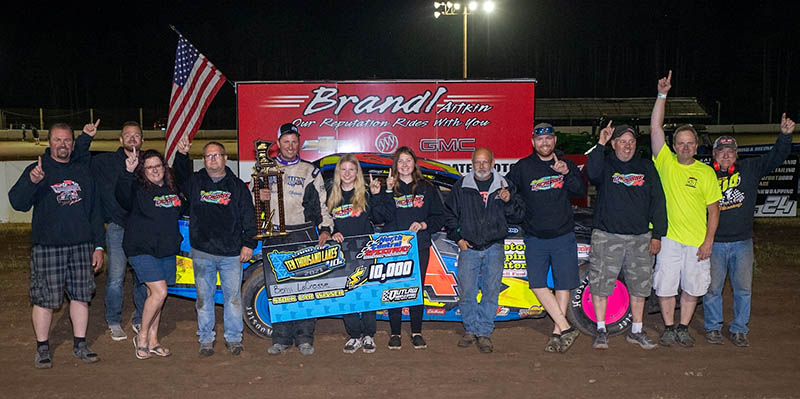 Benji LaCrosse added another big win to his resume, collecting $10,000 along with the IMCA Sunoco Stock Car checkers at Saturday's North Central Speedway Land of Ten Thousand Lakes 10K. (Photo by Blake Christenson)
After drawing the pole for the Northern SportMod main, Sachau chased Colby Fett the first 13 times around the track before motoring to the front.
Fett and Thursday winner Brayton Carter swapped the second spot before the final caution waved with four laps to go. Fett got the runner-up spot back, finishing just under a second behind Sachau.
Carter, 13th starting Jeff Steenbergen and 20th starting Jake Hagemann ran 3-4-5.
"B" features were completed and main events run following a rain delay.
Feature Results
Modifieds – 1. Ethan Dotson; 2. Jordan Grabouski; 3. Mike Mullen; 4. Tanner Black; 5. Kyle Brown; 6. Kollin Hibdon; 7. Matt Aukland; 8. Jeff Taylor; 9. Aaron Johnson; 10. Jesse Rogotzke; 11. Toby Patchen; 12. Terry Phillips; 13. Ethan Braaksma; 14. Kelly Shryock; 15. Russ Reinwald; 16. Josh Anderson; 17. Brandon Schmitt; 18. Brad Theys; 19. Steve Arpin; 20. Casey Arneson; 21. Tripp Gaylord; 22. Collin Thirlby; 23. Johnny Whitman; 24. Ricky Thornton Jr.
Stock Cars – 1. Benji LaCrosse; 2. Luke Lemmens; 3. Damon Murty; 4. Kenneth Richards; 5. Matt Speckman; 6. Eric Arneson; 7. Kyle Brown; 8. Devin Snellenberger; 9. Derek Brown; 10. Andy Altenburg; 11. Elijah Zevenbergen; 12. Chanse Hollatz; 13. Chad Palmer; 14. Jeff McCollum; 15. Derek Green; 16. Jason Rogers; 17. Kyle Falck; 18. Troy Burkhart; 19. Dylan Smith; 20. Jacob Dahle; 21. Jeffrey Larson; 22. Kyle Heckman; 23. Jeremy Christians; 24. Kyle Vanover.
Northern SportMods – 1. Jake Sachau; 2. Colby Fett; 3. Brayton Carter; 4. Jeff Steenbergen; 5. Jake Hagemann; 6. Jim Horejsi; 7. Justin Jones; 8. Hunter Longnecker; 9. Jared Boummester; 10. Dean Cornelius; 11. Skyler Woods; 12. Nate Albrant; 13. Geoff Olson; 14. David Siercks; 15. Thomas Behle; 16. Cam Reimers; 17. Logan Anderson; 18. Brandon Hines; 19. Adam Bohlman; 20. Shane Paris; 21. Timothy Warner; 22. Torey Fischer; 23. Chris VanMil; 24. Mark Martini.