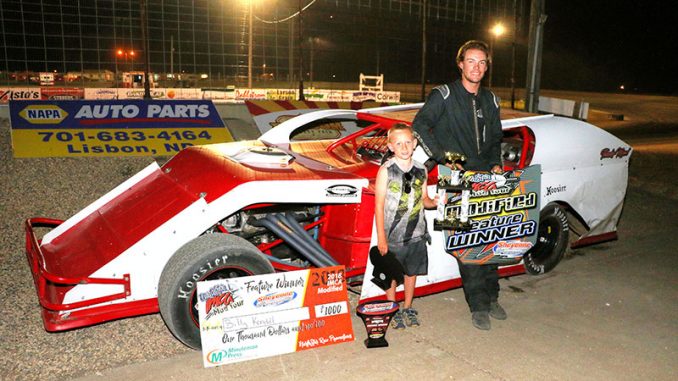 LISBON, N.D. (Aug. 12) – After running third in his Northstar IMCA Modified Tour heat race at Sheyenne Speedway, Billy Kendall didn't think Sunday would be his night.
That wasn't the case.
Kendall drew another front row start, chased and got the lead back from Jarrett Carter, then stayed in front to the end of the 30-lapper at Lisbon. The $1,000 Fast Shafts All-Star Invitational ballot qualifying victory was his third in as many nights and was complemented by a $1,000 share of the tour point fund.
"It was kind of hard to believe," admitted Kendall, 19 years old and headed back to the University of North Dakota later this week to start his sophomore year as a mechanical engineering major. "I wasn't good in my heat race and didn't think it would be our night, but we turned it around in the feature."
Kendall had won tour features Friday at Princeton Speedway and Saturday at North Central Speedway, both familiar venues. He made the 3-1/2 hour tow on Sunday to race for the first time at Sheyenne.
He asked a few questions and fine-tuned his setup before starting outside the front row and leading the first two laps. Carter was scored in first the next six circuits before Kendall got the point back.
The feature ended with a long green flag run and Kendall was closing in on the back of the field when the checkers flew, a couple car lengths ahead of Randy Klein.
Carter, Tyler Peterson and John Nord completed the top five.
Feature results – 1. Billy Kendall; 2. Randy Klein; 3. Jarrett Carter; 4. Tyler Peterson; 5. John Nord; 6. Dylan Goplen; 7. Rob VanMil; 8. Erick Thiesse; 9. Dave Shipley; 10. Rich Pavlicek; 11. Shawn Fletcher; 12. Casey Arneson; 13. Chad Funt; 14. A.J. Viehauser; 15. Greg Friestad; 16. Dwight Wegner; 17. Clint Hatlestad; 18. Ryan Cano; 19. Billie Christ; 20. John Corell; 21. Cody Peterson; 22. Delray Dykstra; 23. Justin Jones; 24. Jesse Skalicky; 25. Lucas Rodin.