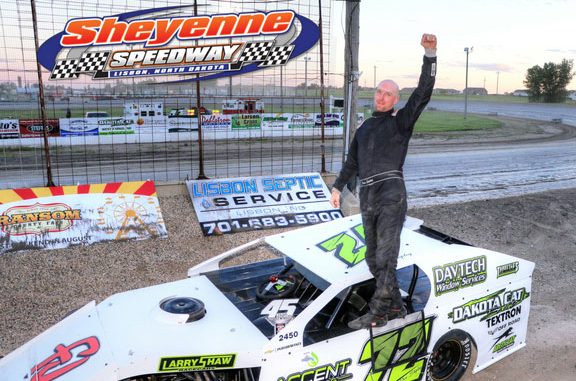 LISBON, N.D. (July 1) – Dave Shipley was the photo finish winner when IMCA Modifieds returned to Sheyenne Speedway as part of the track's 45th anniversary night.
John Nord led early but was soon overtaken by rookie Jesse Skalicky.
Skalicky was fast on the high side and built a nice lead, but the car on the move was the ninth starting Shipley's.
He used an effective low line, steadily moved through the field and took over second, then started closing the gap on Skalicky.
As the laps wound down, Shipley got closer and closer and eventually got beside Skalicky as the two ran side-by-side the final few laps. The two raced to the line, where Shipley won a thriller by just .049 of a second in a true photo finish.
Nord had a nice run to finish third, followed by Randy Klein and Tyler Peterson.