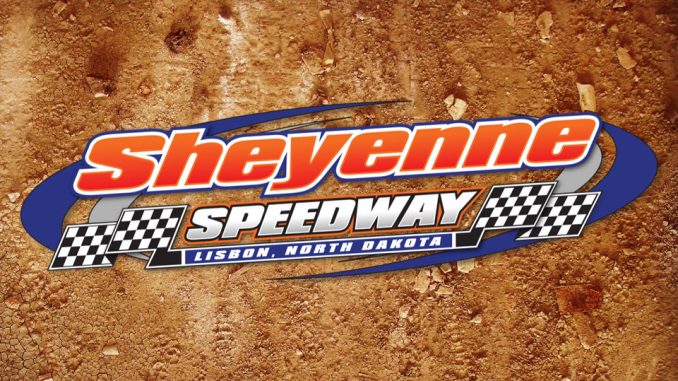 LISBON, N.D. — For the first time, IMCA Modifieds are coming to Sheyenne Speedway in Lisbon, N.D. Fans will get their first glimpse of the Powdercoat Specialists IMCA Modifieds on the 1/4-mile dirt oval this Sunday, June 10.

 
Modifieds have appeared at Sheyenne in past years, but this will be the first time IMCA-sanctioned Modifieds will run at the track. They also run at Sheyenne on July 1, Aug. 12 and Sept. 30.
"We are thrilled to bring the IMCA Modifieds in for the first of four trips to Sheyenne Speedway," promoter Benji Froemke said. "We know there are several tracks around our region that run the IMCA Modifieds and we know there is a lot of fan interest in our local area to see them race."
Several tracks in the Fargo-Moorhead region run the IMCA Modifieds weekly – Red River Valley Speedway in West Fargo (Fridays), Jamestown Speedway (Saturdays), Norman County Raceway in Ada (Thursdays) and Buffalo River Race Park (Sundays). BRRP is giving the IMCA Modified class the night off this week, which should provide a boost for car counts on Sunday.
"We appreciate Kevin Nathe at Buffalo River Race Park and his willingness to work with us and give the IMCA Modifieds the night off," Froemke said. "We think the car counts should be solid and the class should put on a great show for our fans that have been waiting for this race. We have custom trophies, free Ice Cream for the fans thanks to our longtime local race night sponsor Qual Dairy, prizes for the kids and just announced $500 to the feature winner of the IMCA Modifieds."
Local driver Randy Klein will be doing double duty this weekend as he also races an IMCA Modified and has been looking forward to this race when it was announced along with several other drivers.
"IMCA Mods have moved into this area over the past couple years and we have heard a lot of buzz about it from fans." Klein said. "There are a lot of locals behind the wheel of IMCA Mods that started in other classes and moved up through the years that will be back in action at the track where it all once began."

 
Some of those locals drivers that have frequented Lisbon include; Dave Shipley (former super stock champion), Jarrett Carter (former MW modified track champion), Nate Reinke will be doing double duty as well, John Nord, Greg Friestad, Zach Doctor, Rusty Kollman, Eric Edwards, Lucas Rodin, Josh Eberhardt, Jonny Correl, Scott Bintz, Joey Rowell, Billie Christ, Randy Gordon, Trent Grager, Adam Fisher, Rich Pavlicek, Tyler Peterson and Mike Greseth.
They will be competing for IMCA Speedway Motors Weekly Racing National, Side Biter Chassis North Central Region, North Dakota State and track points. A Sheyenne Speedway IMCA Modified track champion will be crowned.
Powdercoat Specialists owner Adam Fisher is an IMCA Modified racer and the divisional sponsor of the class at the speedway.
"I enjoy small town racetracks and it's close to Kindred, North Dakota my hometown." Fisher said. "I'm excited to see a race track that is moving forward and trying new things."
The night will be the fourth of the season at Sheyenne as the track is off to a solid start in its 45th anniversary season. On June 3, the track set season highs for fans in attendance and cars.