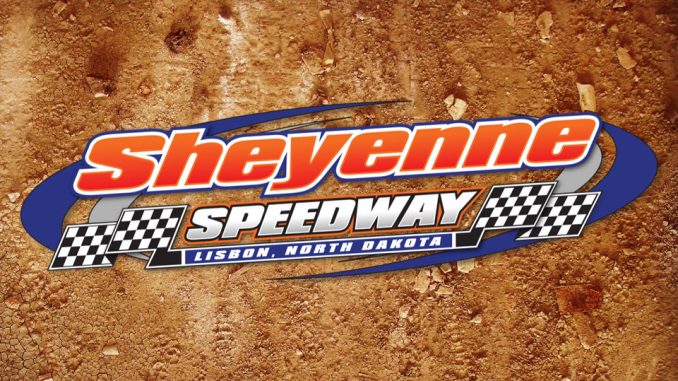 By Tom Berg
LISBON, N.D. – Sunday is a night of celebration at Sheyenne Speedway! The 1/4-mile dirt track in Lisbon, N.D., will celebrate its 45th anniversary this Sunday night, July 1.
Racing begins at 6 p.m. and will be the biggest show of the year with six classes running. The Powdercoat Specialists IMCA Modifieds are back for a second time this season.
The night also includes a fireworks show after the racing for fans to enjoy in addition to the action on the track. Special, custom 45th anniversary trophies will be presented to all six feature win­ners. There also will be memories shared as part of the rich history of the 45 years of racing in Lisbon.
"I couldn't think of a better way to start the Fourth of July Week. Six full race classes will be on display that will not disappoint." Race Director Hunter Carter said. "Plus, a fireworks display for everyone to enjoy and celebrate the 45th anniversary together …You are not going to want to miss this."
The IMCA Modifieds were a hit during their first appearance on June 10. A strong 21-car field signed in with Dave Shipley of Argusville, a former super stock track champion at Sheyenne, tak­ing the feature win over Tyler Peterson of Hickson.
"It's awesome to be able to race down in Lisbon, I grew up there as a kid watching Corky Thomas race my dad's super stock there," Peterson said. "I only raced there a handful of times with my B-mod but had good success the few times I did. I'm looking forward to coming back down on Sun­day and see if we can't do one spot better then the last time."
Ageless veteran John Corell of Jamestown was third, followed by Tim Perkins of Bismarck and Jarrett Carter of Lisbon.
"I'm really looking forward to getting back to Sheyenne Speedway this weekend," Carter said. "If you missed the first week you are going to want to put this on your calendar. Both the car count and racing were great and I would expect the same again."
IMCA Modified rookie Jesse Skalicky, who leads the points at Red River Valley Speedway and finished eighth during the first Modified show at Sheyenne, is also looking forward to coming back.
"It was cool coming back to Lisbon in a Modified this time," Skalicky said. "Any time a track adds your class it's fun to support it. It's a great facility and we will definitely be back."