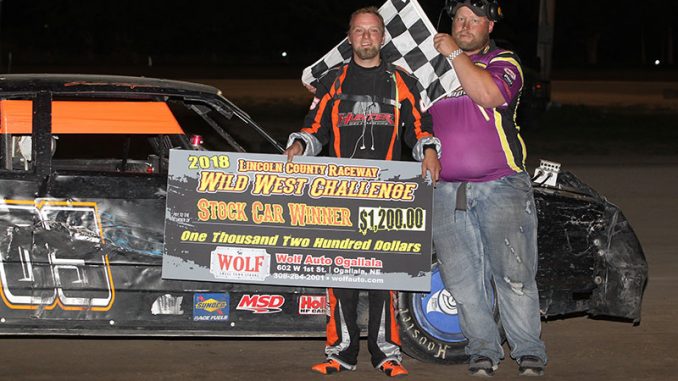 By Kelly Ninas
NORTH PLATTE, Neb. (July 6) – New division, same title: Wild West Challenge champion.
Jesse Taylor took the top check at Lincoln County Raceway's Wild West Challenge Friday evening, earning $1,200 for his IMCA Sunoco Stock Car victory.
Last year's IMCA Modified winner at North Platte, Taylor started on the outside of the se­cond row and was among the cars jostling for position throughout the feature. He finally took the lead from Jason Rogers on the 16th lap and weathered a series of late cautions for the victory.
Close behind was 10th starting Kyle Vanover. Rogers, Casey Woken and Justin Addison com­pleted the top five.
Mike Densberger raced from sixth starting to win the IMCA Modified feature, earning $1,000 and a Fast Shafts All-Star Invitational ballot bid as well.
Densberger motored by Jeremy Frenier on lap nine for the lead, then held off late chal­lenges from the field of heavy hitters.
Clough worked his way from ninth starting to the runner-up spot. Frenier, Brandon Spanjer and Jay Steffens were next across the stripe.
Brett Berry parlayed his pole start into the $1,000 Karl Chevrolet Northern SportMod check­ers.
Austin Svoboda was second while former hometown hotshoe Dillon Schultz worked his way through the field to third.
Grabbing the lead in the early laps and avoiding trouble throughout the feature was the win­ning formula for Jesse Vanlaningham in the IMCA Sunoco Hobby Stock feature.
Vanlaningham pocketed $700. Jeff Ware ran out of time to challenge and ended in second; third went to Luke Wassom.
Coming from the furthest to visit the winners circle was Mitch Bolton of Grand Junction, Colo­rado. Bolton was not only the winner of the longest tow award but the $650 victor in the Mach-1 Sport Compact feature.
Second place went to Denny Berghahn Jr. while early leader Shawn Hein was third.
Feature Results
Modifieds – 1. Mike Densberger; 2. Brandon Clough; 3. Jeremy Frenier; 4. Brandon Span­jer; 5. Bryan Herrick; 7. David Murray Jr.; 8. Colton Osborn; 9. John Burrow Jr.; 10. Charley Brown; 11. Cole Hodges; 12. Brian Cross; 13. Ronnie Wallace; 14. Dave Pederson; 15. Klancey Honeycutt.
Stock Cars – 1. Jesse Taylor; 2. Kyle Vanover; 3. Jason Rogers; 4. Casey Woken; 5. Justin Ad­dison; 6. Jeff Whiting; 7. Mikey Dancer; 8. Travis Demilt; 9. Jason Anderson; 10. Henry Henderson; 11. Dan Eller; 12. Danny Concelman; 13. Eric Kinderknecht; 14. Kyle Clough; 15. Robbie Kosmacek; 16. Tyler Tipton; 17. Damon Richards; 18. D.J. Banks; 19. Angel Munoz; 20. Andrew Dillenburg
Hobby Stocks – 1. Jesse Vanlaningham; 2. Jeff Ware; 3. Luke Wassom; 4. Jeromy Wag­ner; 5. Tanner Jones; 6. Allyn Myers; 7. Austin Davis; 8. Chuck Ledbetter; 9. Shad Cooper; 10. Brooke Russell; 11. Brady Bencken; 12. Caleb Hetrick; 13. T.C. McKain; 14. Tanner Clough; 15. Jacob Hagan; 16. Sean Miller; 17. Devin Bjorklund; 18. Brady Henderson.
Northern SportMods – 1. Brett Berry; 2. Austin Svoboda; 3. Dillon Schultz; 4. Nick Hankins; 5. Ryan Moser; 6. Brady Weinman; 7. Zach Schultz; 8. Tony Schultz; 9. Eric Kackmeister; 10. Justin Svoboda; 11. Brian Osantowski; 12. Jacob Wolsleben; 13. Zach Buesing; 14. Gary Long; 15. Cody DeWester; 16. Adam Kackmeister; 17. Danny Concelman; 18. Jamey Kennicutt; 19. Brandon Poessnecker; 20. Matt Caudillo.
Sport Compacts – 1. Mitch Bolton; 2. Denny Berghahn Jr.; 3. Shawn Hein; 4. Richard Crow; 5. Billy Turner; 6. Lanny Bolton;7. David Norquest; 8. Shawn Klinkifuss; 9. Daryl Cauff­man; 10. Andrew Baumgardner; 11. Lonnie Lenser Jr. 12. Kaden Dady; 13. Quincy Eggelston; 14. Tom Baumgardner; 15. Christian Destefano; 18. Billy Potter; 19. Steve Price; 20. Merle Johnson; 21. Kyle Filyaw; 22. Terry Tritt; 23. Terry Florom.