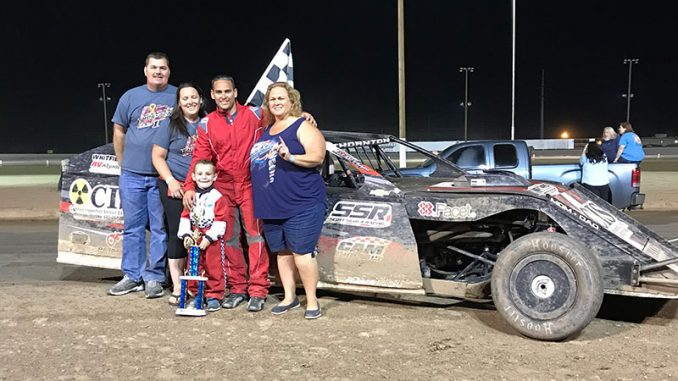 By Jeff McSpadden
CASA GRANDE, Ariz. (May 19) – Jeremy Thornton was the IMCA Modified star Saturday at Cen­tral Arizona Speedway.
Starting seventh in the sixteen car IMCA Modified field, Thornton quickly made his way into the fourth spot diving low on the speedway entering turns one and two after the drop of the green flag, sixth starting Trevor Miller also made a bold move into the second spot behind pole starter and early leader, Mike Strobl.
Trevor Miller drove by Mike Strobl for the lead on lap two while Thornton was working his way up from seventh starting to third. Thornton made quick work of Strobl for the runner up position and set out after Miller.
Taking advantage of a lap five restart, Thornton pulled even with Miller and edged ahead as the sixth lap was scored. Thornton got a great jump on the next restart and began to put some dis­tance between himself and Miller, with Tyler Mecl climbing into the third position.
Thornton's advantage of better than a second held up until the caution waved again with two laps left. Another yellow set up a one-lap dash to the finish and Thornton held his line to win ahead of throughout the remainder of the last lap and crossed the finish line just .737 seconds ahead of Miller and Mecl.