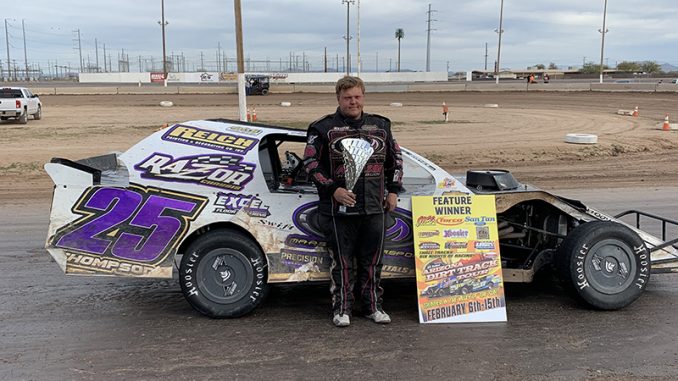 CASA GRANDE, Ariz. (Feb. 9) – Chaz Baca, Ricky Thornton Jr. and Cody Thompson all raced to second wins in their respective divisions, in the third IMCA Arizona Dirt Track Tour event of the weekend.
Baca led the way to the $2,000 IMCA Modified checkers while Thornton collected the $750 IMCA Sunoco Stock Car checkers Sunday afternoon at Central Arizona Speedway while Thompson returned to Casa Grande for another impressive Karl Kustoms Northern SportMod victory, also good for $750.
After a rough start to the 25-lapper, Baca led the distance in the Modified main. Already on the Fast Shafts All-Star Invitational ballot, he was chased every time around the track by Tim Ward while Thornton made his way from 17th starting to third before a lap 14 caution.
The race stayed green to the finish from that point. Thornton, Jeff Taylor and Casey Arneson rounded out the top five.
Back-to-back yellows just after midway were all that slowed Thornton in his drive to the Stock Car win. Brendon LaBatte, Zachary Madrid, 10th starting Arron Hetrick and Chanse Hollatz were scored next.
Bo Partain led the first six laps of the Northern SportMod feature before Thompson sped by on a restart.
Three cautions waved late in the contest, erasing Thompson's sizable advantage, but he was not challenged as the race ended green, white, checkered.
Partain, Tyler Soppe, 11th starting Brian Osantowski and Cory Van Zante completed the top five finishers.
Thompson had swept the Desert Thunder Nationals Weekend at Casa Grande last November. His Sunday win was his seventh in 10 starts so far in 2020. 
Feature Results
Modifieds – 1. Chaz Baca; 2. Tim Ward; 3. Ricky Thornton Jr.; 4. Jeff Taylor; 5. Casey Arneson; 6. Collen Winebarger; 7. Mark Carrell; 8. John Hansen; 9. Marlyn Seidler; 10. Alex Stanford; 11. Kollin Hibdon; 12. Lance Mari; 13. Casey Skyberg; 14. Ryan Roath; 15. Russell Allen; 16. Zachary Madrid; 17. Jacob Pace; 18. Clay Norris; 19. Kelsy Hayes; 20. Jason Noll; 21. Drew Armstrong; 22. Christy Barnett; 23. Spencer Wilson; 24. Ethan Dotson.
Stock Cars – 1. Ricky Thornton Jr.; 2. Brendon LaBatte; 3. Zachary Madrid; 4. Arron Hetrick; 5. Chanse Hollatz; 6. Craig Miller; 7. Andrew Mathers; 8. Raymond Doyle; 9. Sean Gentry; 10. Brad Hallin; 11. Justin Thornton; 12. Andrew Burg; 13. Kevin Roberts; 14. Wayne Clink.
Northern SportMods – 1. Cody Thompson; 2. Bo Partain; 3. Tyler Soppe; 4. Brian Osantowski; 5. Cory Van Zante; 6. Chris Theodore; 7. Kelly Henderson; 8. Taylor Kuehl; 9. Gerry Glenn; 10. Fred Ryland; 11. Kyler Reynolds; 12. Patti Ryland; 13. Ben Stockton; 14. Timothy Allerdings; 15. Brady Bjella; 16. Shelby Frye; 17. Tate Johnson; 18. Brandyn Johnson; 19. Cory Parent; 20. Jackie Frye; 21. Austen Becerra; 22. Jimmy Terstriep; 23. Eric Folstad.