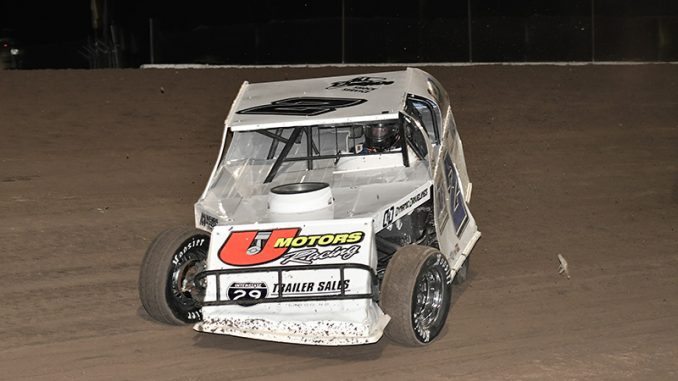 CASA GRANDE, Ariz. (Feb. 11) – He was chased and he was challenged, but Casey Arneson was never caught in Tuesday night's Arizona Dirt Track Tour main event for IMCA Modifieds at Central Arizona Speedway.
Two thousand dollars richer for his efforts, the North Dakota pilot led all 25 laps, challenged by Drew Armstrong and Jake O'Neil through midway, then chased across the stripe by 14th starting Alex Stanford and 17th starting Jeff Taylor.
Multiple cautions made for slow going over the first five circuits before a lengthy green flag run. Arneson, already on the Fast Shafts All-Star Invitational ballot, and O'Neil had been working traffic when the yellow returned on lap 16.
Ricky Thornton Jr., then Stanford ran in second from that point but neither could reel in Arneson. 'B' feature winner Taylor made his way to third with five laps left.
Thornton held off Zachard Madrid in winning his third of four tour starts and second straight at Casa Grande.
The sixth starting Madrid reeled in Thornton but couldn't make his next-to-the-last-lap bid for the lead stick. Sean Gentry was third.
And Brain Osantowski led start to finish in collecting his second Karl Kustoms Northern SportMod tour victory, by a margin of six-plus seconds over teammate Cody Thompson.
Osantowski had to fight off a challenge from Thompson following a lap 14 restart. Austen Becerra was third.
Feature Results
Modifieds – 1. Casey Arneson; 2. Alex Stanford; 3. Jeff Taylor; 4. Ricky Thornton Jr.; 5. Chaz Baca; 6. Jake O'Neil; 7. Casey Skyberg; 8. Drew Armstrong; 9. Bricen James; 10. Zachary Madrid; 11. Grey Ferrando; 12. Christy Barnett; 13. Clay Norris; 14. Ryan Roath; 15. Rick Spencer; 16. Erick Thiesse; 17. Garth Dushanek; 18. Jon DeBenedetti; 19. Kelsy Hayes; 20. Heath Grizzle; 21. Spencer Wilson; 22. Kelsie Foley; 23. Mike Wedelstadt; 24. Lance Mari
Stock Cars – 1. Ricky Thornton Jr.; 2. Zachary Madrid; 3. Sean Gentry; 4. Brendon LaBatte; 5. Arron Hetrick; 6. Craig Miller; 7. Joey McCullough; 8. Eric Lloyd; 9. Kevin Roberts; 10. Chanse Hollatz; 11. Ty Warner; 12. Andrew Mathers; 13. Wayne Clink.
Northern SportMods – 1. Brian Osantowski; 2. Coy Thompson; 3. Austen Becerra; 4. Tyler Soppe; 5. Brady Bjella; 6. Ty Rogers; 7. Bo Partain; 8. Shelby Frye; 9. David Pitt; 10. Timothy Allerdings; 11. Taylor Kuehl; 12. Tate Johnson; 13. Terry Bahr; 14. Eric Folstad; 15. Rex Hasley; 16. Ben Stockton; 17. Andy Clower; 18. Dwayne Melvin; 19. Slade Pitt; 20. Dixon Tipton; 21. Michael Egurola; 22. Brandyn Johnson; 23. Kyler Reynolds; 24. Cory Van Zante.