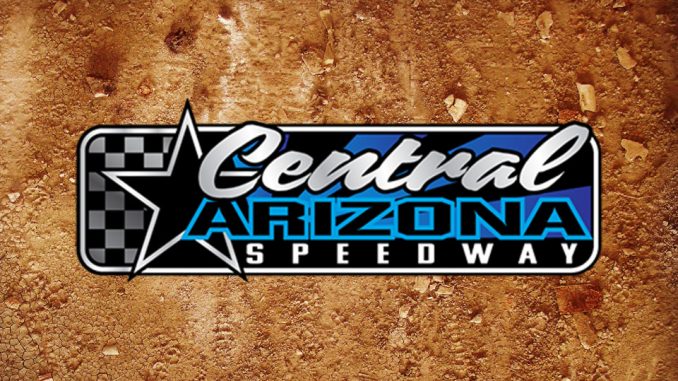 By Jeff McSpadden
CASA GRANDE, Ariz. (July 14) – With monsoons threatening the surrounding areas all evening, and a light sprinkle during intermission, Zachary Madrid proved to be too much for the weather and his competition to stop in the headlining IMCA Modified division during Saturday's Summer Shootout at Central Arizona Speedway.
Madrid bolted to the low side of the high banks entering turn one to start the IMCA Modified feature and went from fifth to second in the first two corners behind pole sitter Dan Radcliffe.
Madrid then stayed low coming off the fourth corner to complete lap one and swept by Radcliffe for the lead entering turn one. Chaz Baca Jr. was also on the move from the ninth spot, jetting by Radcliffe to take the runner-up position by the end of the second lap.
Jeremy Thornton entered the fray following an early restart, taking third away from Radcliffe and stalking the duo of Baca and Madrid.  Thornton would high side hustle his way past Baca and Madrid in one corner on lap seven, but Madrid got his elbows up and retook the point one lap later.
Madrid got a great jump on a lap nine restart while Baca made a low side move by Thornton to retake second. Baca hounded Madrid through the remaining laps, with Thornton losing ground in third, and 17th starting Tyler Mecl making a late charge by Trevor Miller for fourth.