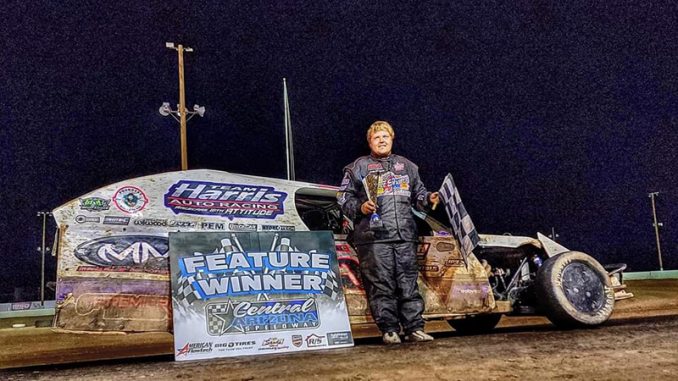 CASA GRANDE, Ariz. (Jan. 22) – Cody Thompson got his first win of 2022 while continuing his IMCA Modified education Saturday at Central Arizona Speedway.
The 2021 national and North Central Region rookie of the year motored from ninth starting to the lead just before midway, then outran Friday winner Zachary Madrid and hard charger Matt Aukland to the $1,000 checkers.
"I just kind of worked my way up there and made my passes in (turns) three and four," said the Sioux City, Iowa, speedster, already eligible to qualify for the Fast Shafts All-Star Invitational. "I restarted behind Zach – he's pretty good – after a caution and did a slide job on him for the lead."
Thompson made nine early-season starts in Arizona last year and had six IMCA.TV Winter Nationals outings under his belt before journeying to Case Grande this January.
"Central Arizona remind me of Park Jefferson Speedway," said Thompson, broadening his horizons by helping at a friend's horse ranch between his Arizona starts. "It takes the same gear and has tighter corners, but races the same as Park Jefferson does back home."
"Every time I'm on the track I learn something I can do better next time," he said. "I've already learned a ton this year."
Madrid has started fifth, Aukland 12th. Sean Stacy and Kelsie Foley completed the top five.
Chase Alves won his third IMCA Northern SportMod feature of the season while Scott Sluka scored his first IMCA Sunoco Stock Car victory of 2022.
Alves stayed locked in the fast top groove in leading all 20 laps of the Northern SportMod feature. His wife Shelby started 10th and finished second and Ty Weidner ran third.
"We've got a good program going with our BMS South Race Cars," said Alves, a two-time winner after debuting a new Precision Performance Racing Suspension shock program at Winter Nationals. "Between Boone and Las Vegas we hit on something and it carried over."
Sluka also used the higher line in his run to the checkers, starting fourth and leading the last 14 of 15 Stock Car circuits.
"Zach (Madrid) was coming," said Sluka, who stayed in front following a restart at halfway. "He was trying his best to get around me but I was fortunate to hold him off."
Eric Lloyd completed the top three.
Both IMCA Modifieds and IMCA Northern SportMods are on Jan. 28 and 29 cards at Casa Grande.