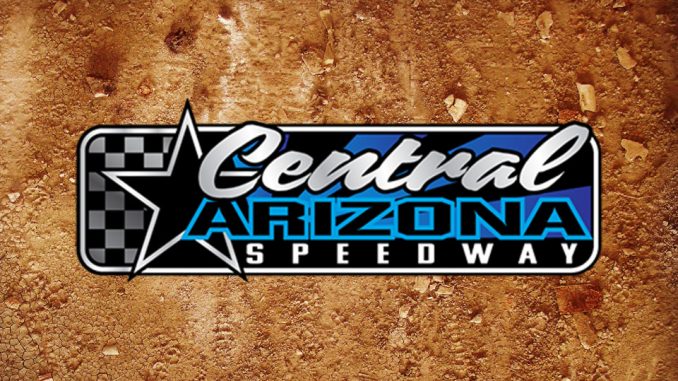 By Lonnie Wheatley
CASA GRANDE, Ariz. (Nov. 24) – Central Arizona Speedway's sixth annual Desert Thunder Nation­als came down to the final lap with Jeff Taylor denying R.C. Whitwell a sweep of the three-race weekend by winning Sunday afternoon's 30-lap IMCA Modified main event atop the 3/8-mile clay oval in Case Grande.
Taylor jumped into the lead at the outset of the $3,000 to win IMCA Modified feature and led through­out, fending off a late challenge from Whitwell.
"We got a little more balance in the car today," Taylor said afterward. "We held on, the car was pretty good so we're happy with that."
While Taylor set the pace ahead of Alex Stanford, Whitwell was working his forward from 16th in his quest to sweep the weekend. Reaching the fourth position by the time a caution flew after 19 laps, he made quick work of Jason Noll and Stanford on the restart to take command of second and set his sights on Taylor for the lead.
A final caution with five laps remaining put Whitwell on Taylor's rear bumper, but the leader was up to the task and fought off Whitwell's last gasp bid for the lead.
"It's different racing here in the day. You can see the shadow off of two," Taylor explained. "I knew if he ever got beside me and I saw his shadow that I would be in trouble. But I couldn't run down there so there wasn't anything I could do about it so if he passed me, then more power to him."
Taylor held on though ahead of Whitwell with Stanford rounding out the podium in third. Starting deep in the field, Chaz Baca Jr., worked his way from 20th to fourth with Noll rounding out the top five.
Whitwell earned $1,000 for Friday and Saturday wins. Both Taylor and Whitwell were already on the Fast Shafts All-Star Invitational ballot.
While Taylor denied Whitwell's perfect weekend, Cody Thompson completed his three-race sweep of Karl Kustoms Northern SportMod action.
Working his way forward from four rows deep, Thompson slid past Cody Carver on a lap eight restart and held the point the rest of the way.
"This was an awesome track all weekend," Thompson commented. "I could feel it latching down in three and four so I was trying to save my tires. Then when we got that caution, I knew it was go time."
Thompson rolled on to the checkered flag ahead of Carver with Andy Clower, Cory Hemphill and Gerry Glenn rounding out the top five.
Thompson pocketed $500 for Friday and Saturday checkers and $1,000 on Sunday.
Nov. 22 Feature Results
Modifieds – 1. R.C. Whitwell; 2. Chaz Baca; 3. Zachary Madrid; 4. Jason Noll; 5. Derek Huggins; 6. Kelsy Hayes; 7. Roy Poeling; 8. Chris Carroll; 9. Don Geist; 10. Taylor Center; 11. Doug Meeks; 12. Jacob Pace; 13. Don Earven; 14. Tony Martin; 15. Bill Miller; 16. Spencer Wilson; 17. Jim Whisler; 18. Mike Wedelstadt; 19. Christy Barnett; 20. Tyler Mecl; 21. Jake O'Neil; 22. Trevor Miller; 23. Austin Kuehl; 24. Mark Carrell; 25. Kelsie Foley.
Northern SportMods –1. Cody Thompson; 2. Michael Soboski; 3. Cole Carver; 4. Shelby Frye; 5. Cory Hemphill; 6. Jimmy Terstriep; 7. Kyler Reynolds; 8. Rex Hasley; 9. Koty McGullam; 10. Terry Bahr; 11. Aaron Farrell; 12. Crystal Hemphill; 13. Steve Duffy. 14. David Farley.
Nov. 23 Feature Results
Modifieds – 1. Whitwell; 2. Baca; 3. Christy Barnett; 4. Wedelstadt; 5. Noll; 6. Madrid; 7. Pace; 8. Jeff Taylor; 9. Foley; 10. Carrell; 11. Mecl; 12. Eston Whisler; 13. Wilson; 14. Trevor Miller; 15. Chase Alves; 16. Brent Schlafmann; 17. Sherman Barnett; 18. Jim Whisler, 19. Geist; 20. Roy Meeks; 21. Bill Miller; 22. Earven; 23. Alex Stanford; 24. Carroll; 25. Martin.
Northern SportMods – 1. Thompson; 2. Ty Weidner; 3. Cory Hemphill; 4. Dixon Tipton; 5. Ter­striep; 6. Neil Eckhart; 7. Soboski; 8. Hasley; 9. Frye; 10. Artie Garcia; 11. Crystal Hemphill; 12. Speedy Madrid; 13. Carver; 14. Duffy; 15. Reynolds; 16. Richard Liskey; 17. Farrell; 18. Robert Holmes; 19. Bahr; 20. Dylan Newberg; 21. Farley.
Nov. 24 Feature Results
Modifieds – 1. Taylor; 2. Whitwell; 3. Stanford; 4. Baca; 5. Noll; 6. Wedelstadt; 7. Madrid; 8. Schlaf­mann; 9. Eston Whisler; 10. Hayes; 11. Trevor Miller; 12. Christy Barnett; 13. Poeling; 14. Mecl; 15. Roy Meeks; 16. Pace; 17. Jessie Hoskins; 18. Foley; 19. Bill Miller; 20. Jesse Patter­son; 21. Wilson; 22. Carroll; 23. Rick Spencer; 24. Carrell; 25. Jimmy Mills.
SportMods – 1. Thompson; 2. Carver; 3. Andy Clower; 4. Cory Hemphill; 5. Gerry Glenn; 6. J.J. McCarty, 7. Crystal Hemphill; 8. Hasley; 9. Tipton; 10. Duffy; 11. Soboski; 12. Reynolds; 13. Ma­drid; 14. Garcia.